Add visual cues and buttons to your process
In Skore app V3 we introduced a library of over 500 icons for you to choose from. Drag icons directly onto your process, or add one to your text, to help tell the story of your process and use visual prompts to clarify.
Icons can help provide additional context for activities or make them easier to recognise at a glance.

They help to show the transformational effect of an activity by highlighting inputs and outputs.

Use icons to highlight important steps in the process such as decisions points or business rules.

Highlight important links and documents by placing an icon inside a link. Clicking on the icon will launch a linked document.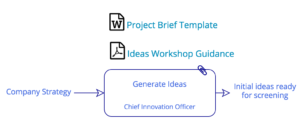 Or use icons as buttons on a contextual landing page that link to different places in your process model.