Project Lifecycle – accelerating change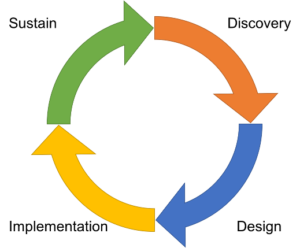 Whether you're embarked on a major organisational change, designing a new business model, a new service offering or implementing a new system, having a solid project lifecycle methodology is essential. Delivering your project requires a strong team and a strong set of tools to support them.
For many people looking at Skore, for the first time, they see a business process mapping, process analysis or a live process workshop tool. For many customers and partners it's much more than that.
Skore is used to support all the major phases of a change or transformation project lifecycle from discovery to sustain.
Here we describe how it supports each major phase of the project lifecycle and the benefits it brings.
Digital Discovery
Early in a project, or even before it starts, it's important to understand the current situation. This informs key decisions about what to implement and why.
This is about understanding what works well today and what could be improved. What are the gaps and how do we fill them.
Skore is particularly good at rapidly capturing business processes either in live digital discovery workshops or through one-to-one interviews. In fact it's possible to import existing business processes from some other tools. Although we still recommend manually capturing existing process documentation as this gives you the opportunity to analyse it at the same time and helps identify those gaps.
Whether you're implementing a new system or changing a business model you will need to analyse the information you gather in order to understand the requirements. Again the reporting features of Skore help you extract this information and view it in a variety of ways and in different tools. For example you can check out how Skore can work with Qlik Sense to analyse costing information here.
Design
Once you move into the design phase it's important to engage the right people, the right subject matter experts. Design is about taking your objectives and designing the work the organisation needs to do in order to deliver those objectives.
Skore is perfect for driving workshops with subject matter experts to capture this work.
Once the work has been defined you need to identify the roles and teams that will deliver it. Again, with its built in roles and responsibility modelling (RACI / RATSI) Skore app makes it easy to assign the work to different roles.
With these assignments you can then start to analyse how many people and what skills they need. Skore can help you build your implementation plan by recording which new activities you will start with and how you prioritise the rest.
At this point in the project lifecycle you are ready to proceed to implementation.
Implementation
Having designed new ways of working in Skore it is very easy to communicate these online. Teams can be trained directly from the system. Processes captured in Skore can be quickly approved, published and shared with anyone in the organisation.
Team members can access the new ways of working from any device and through these they can access any supporting tools and documents. For example, a description of an activity in Skore may also contain a detailed set of steps, as well as a link to the system needed to perform the activity.
This takes away the uncertainty normally experienced by teams undergoing change. Everything they need is provided in a single place. The Skore digital discovery approach ensures they not only have the ways of working, it presents them in context so it helps answer key questions such as "why do we make this change".
In any implementation it's rare to find a design that works perfectly. What you need is a design that can be improved quickly as challenges arise. With Skore, improvements to your ways of working can be made quickly and republished for users, all the while keeping a history of previous versions.
Sustain
Of course any change is not over at the end of the implementation phase. Any good project lifecycle will include sustain activities to ensure the changes remain in place long into the future.
Skore supports sustain by being a living breathing representation of your ways of working. What's more, users can engage in continuous improvement leaving comments and suggestions against the ways of working.
With all ways of working captured and regularly updated to reflect reality the next change project will be much easier.
Want to learn more about Skore and our supporting tools to help deliver successful change projects?