Process Management
Store, share and manage your organisation's most important processes in one easy to use process portal. Create a visual and interactive process library and manage versions all in one place.
Process Owners
Add process owners to your processes so that everyone can clearly see who has ultimate responsibility for the output and improvement of the process. Process owners can be used to approve processes and you can display them on process diagrams using Text Variables (see Process Mapping features).
Perfect for driving ownership and accountability in your organisation.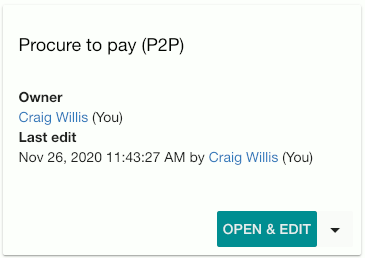 Landing Pages
Landing pages provide a simple, visual place to organise links to processes to make life easier for users. Create landing pages by dropping images onto the page, adding links and organising your processes into logical groups.
Great for making processes easy to access for your team.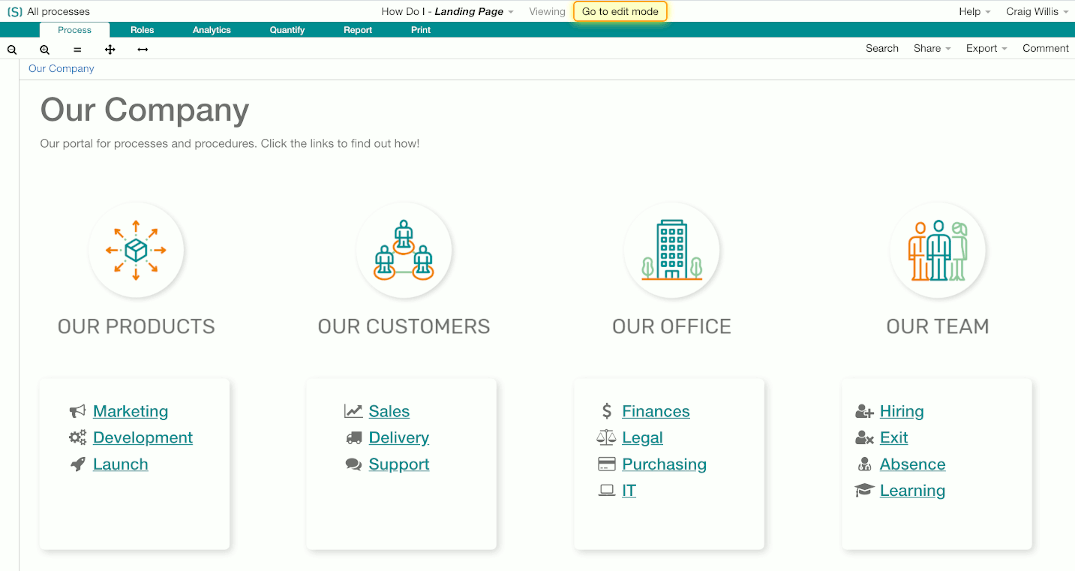 Workspace Search
Quickly find processes in your workspace by searching across names and the purpose field.
Great for quickly finding the process you need.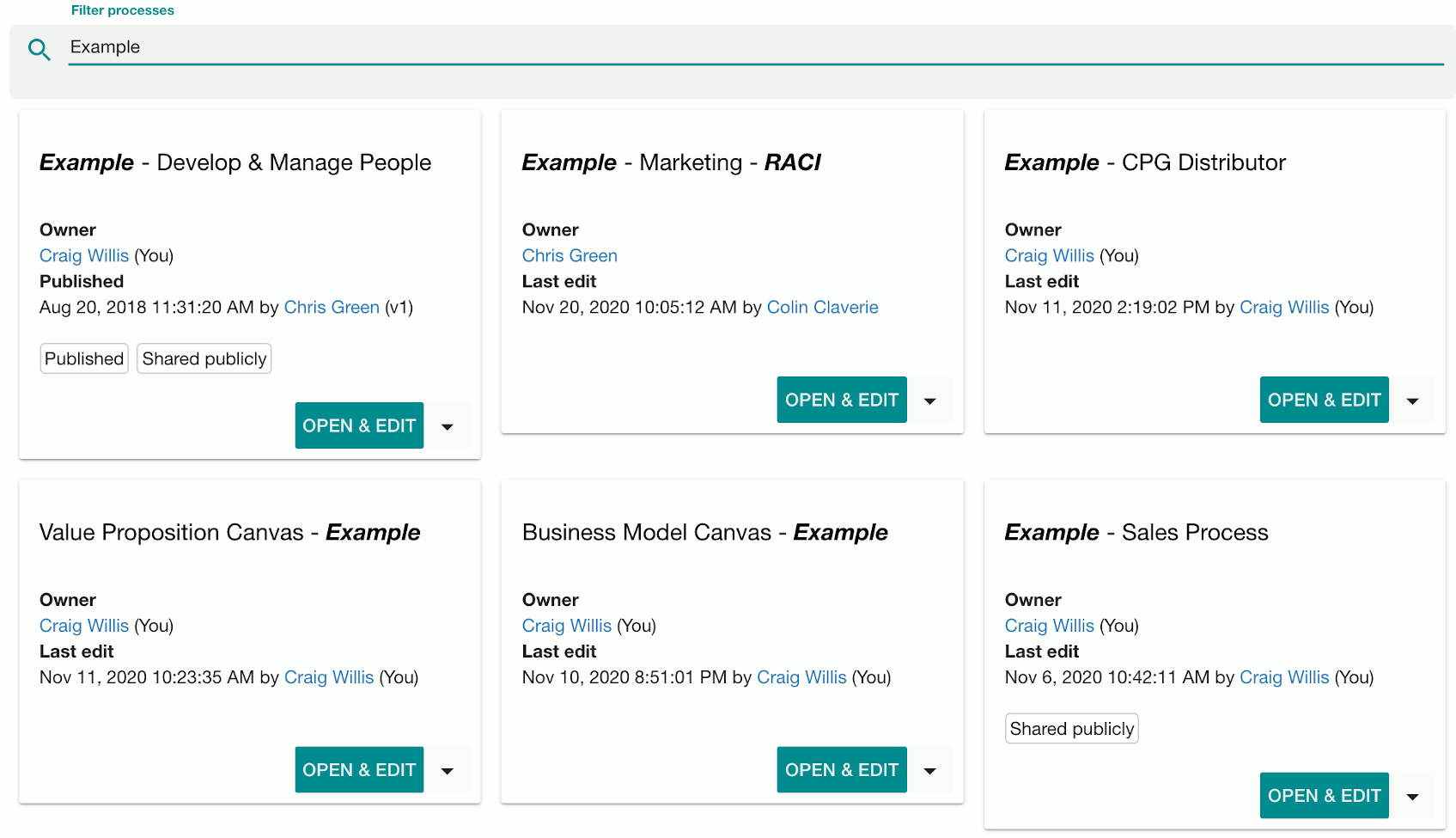 Allow A User From A Specific Domain to Automatically Join
Make it easy for any user in a given domain (the second half of an email address) to join your Skore workspace. Simply add the domain to your workspace and invite users to join you. New users will be asked to create an account and will automatically join your workspace.
Ideal for sharing processes quickly and easily across your organisation.
Revision History
Review processes based on a specific date and time from the past to see how it differs from today. Roll back to previous revisions at the click of a button.
Perfect for understanding changes to your process or rolling back to a previous revision.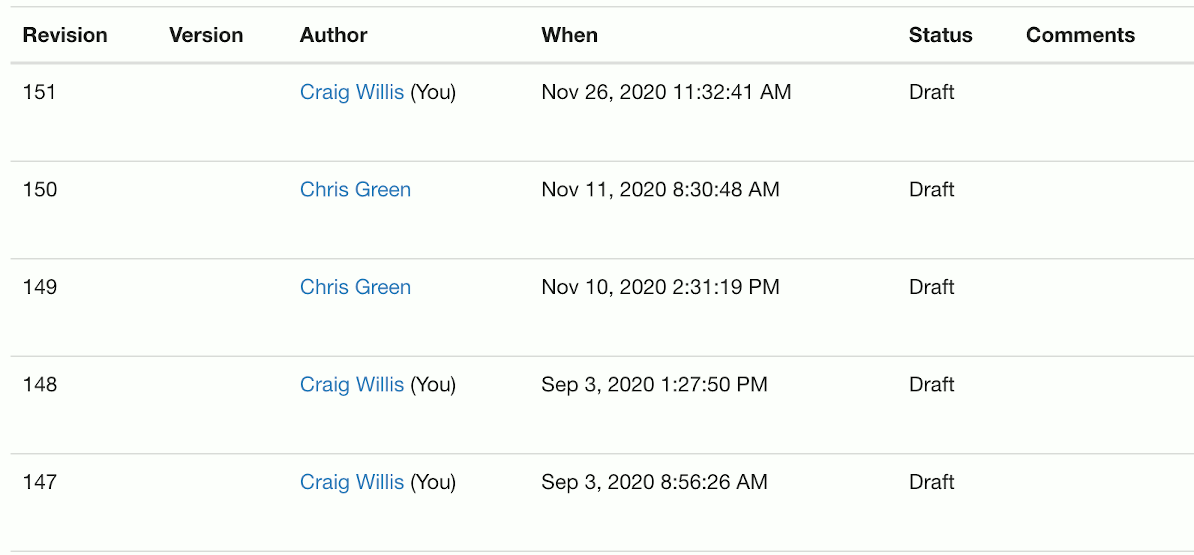 Process Archive
Archive processes you no longer use without completely deleting them. Processes can be stored in the archive and restored if needed.
Great for keeping your workspace clean and tidy without losing past work.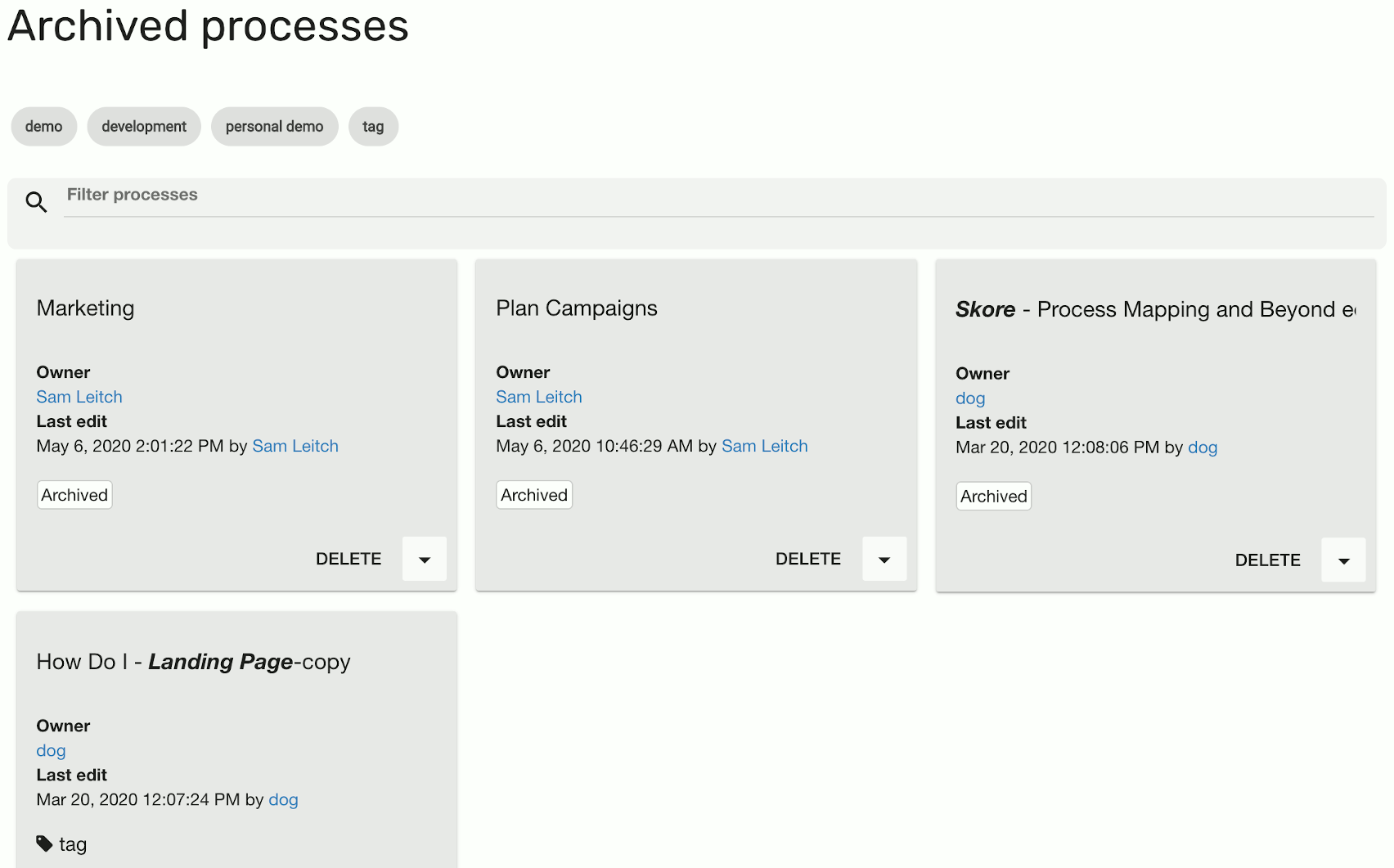 Audit Log
Keep a track of all changes by all users made in your workspace. Changes include adding and changing users, changing workspace settings, access rights, system roles, versions and approvals.
Ideal for keeping track of changes to the workspace setup.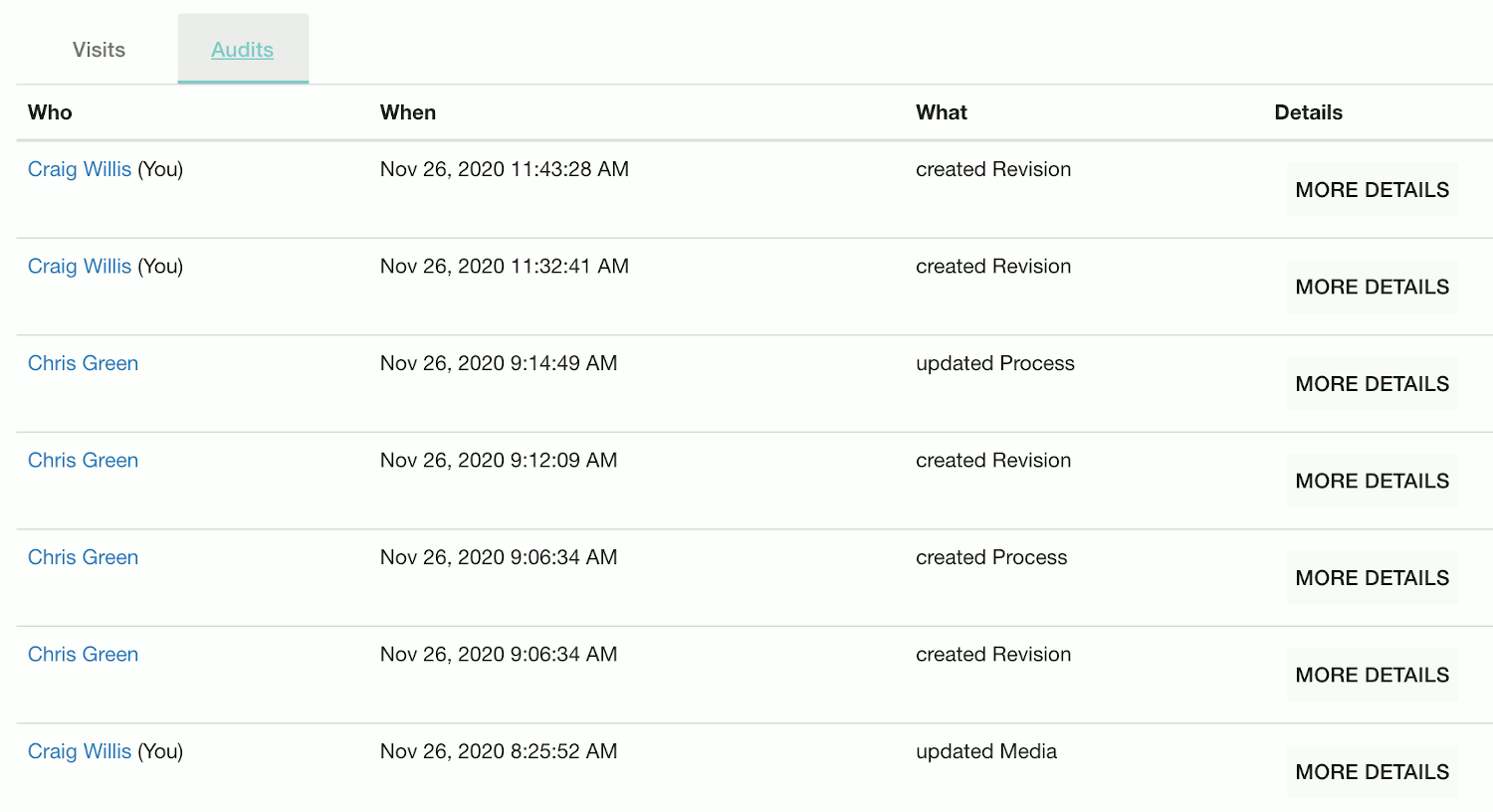 Workspace Visits Log
View who has visited your workspace and when. The Visits log also shows you which processes have been accessed and by which user.
Great keeping track of who has visited the processes in your workspace.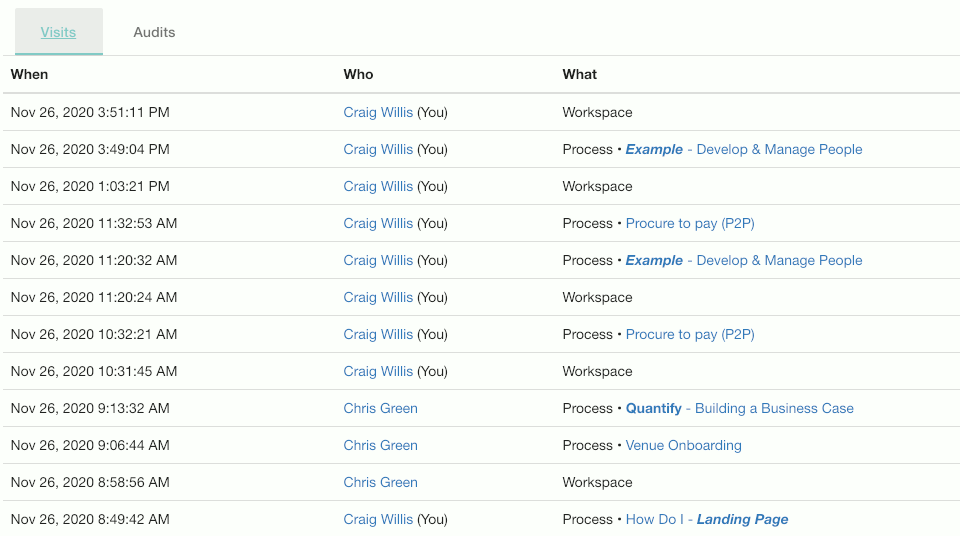 Process Access Rights
Set access rights for processes to prevent unauthorised users from accessing and / or editing your processes.
Perfect for restricting access to specific groups of users.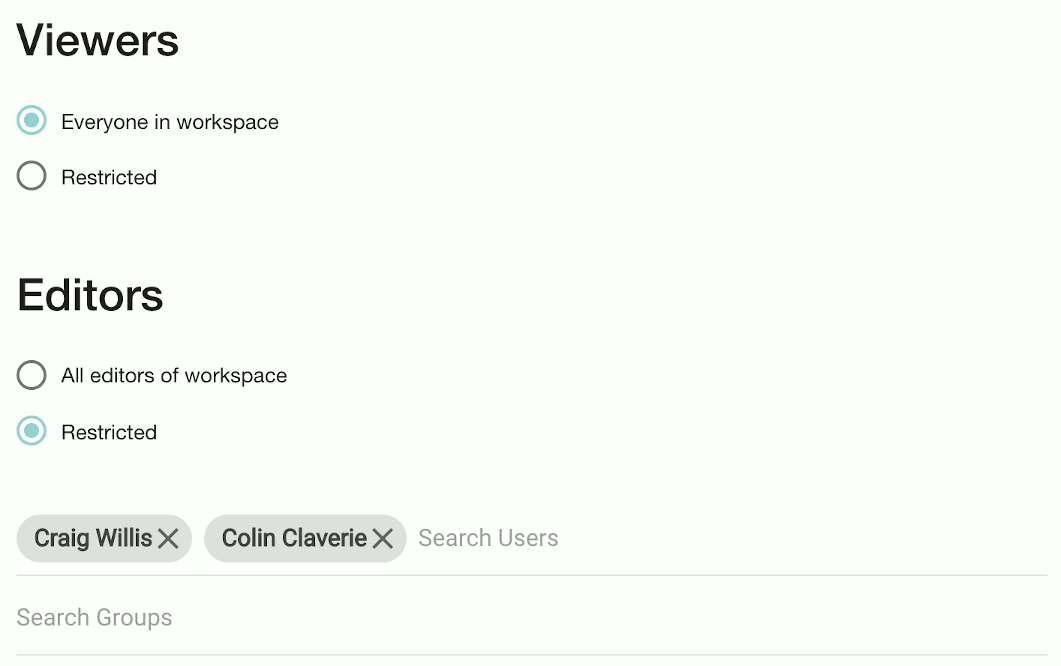 Pin a Process
Make important processes visible at the top of your workspace so that everyone can see it as soon as they enter.
Perfect for making your landing page the first thing that users see when they open the workspace.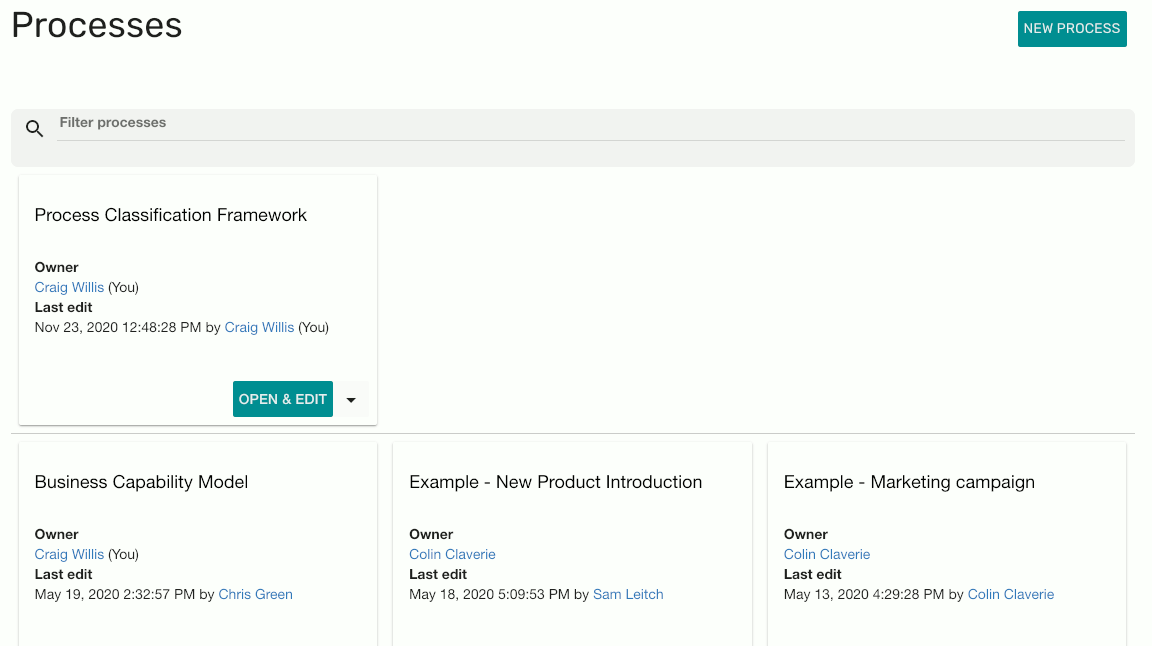 Revision / Change Notes
Make notes against individual revisions to describe what has changed and why you were making the change.
Great for keeping a track of what was driving changes to your processes over time.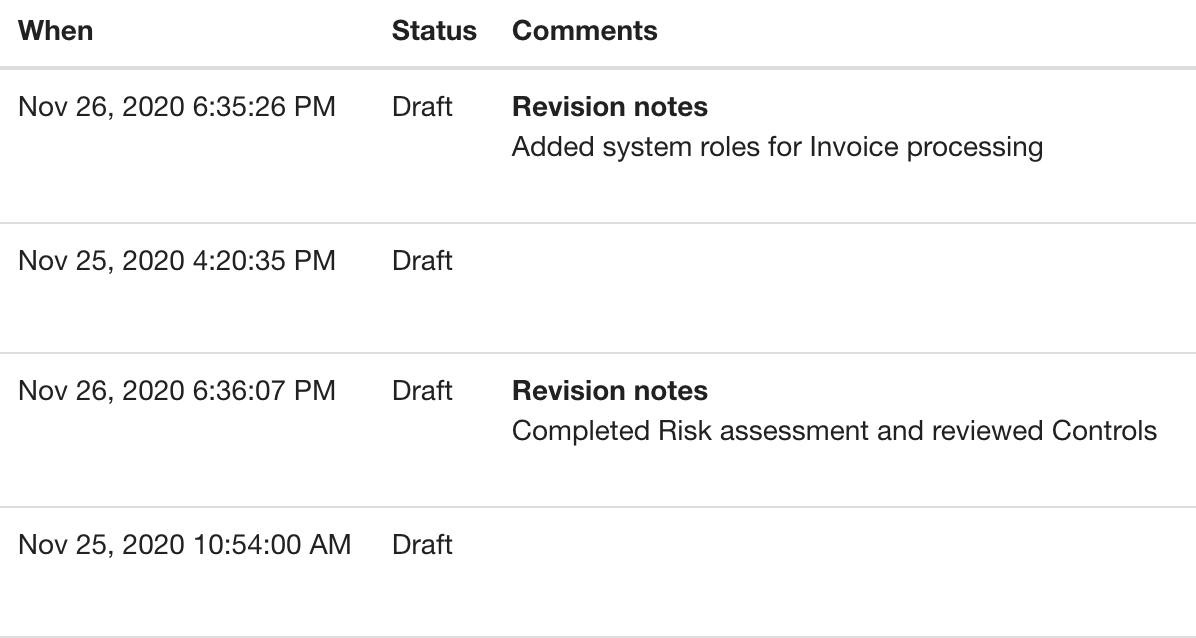 Commenting & Feedback
Gather comments and feedback on your processes through the commenting panel. All users can comment against a process and pin their comment to a specific area of a process so everyone knows what they are referring to. Editors can review the comments and then check them off as they have completed the tasks.
Ideal for engaging with a wider audience and gathering process improvement ideas and suggestions in one place.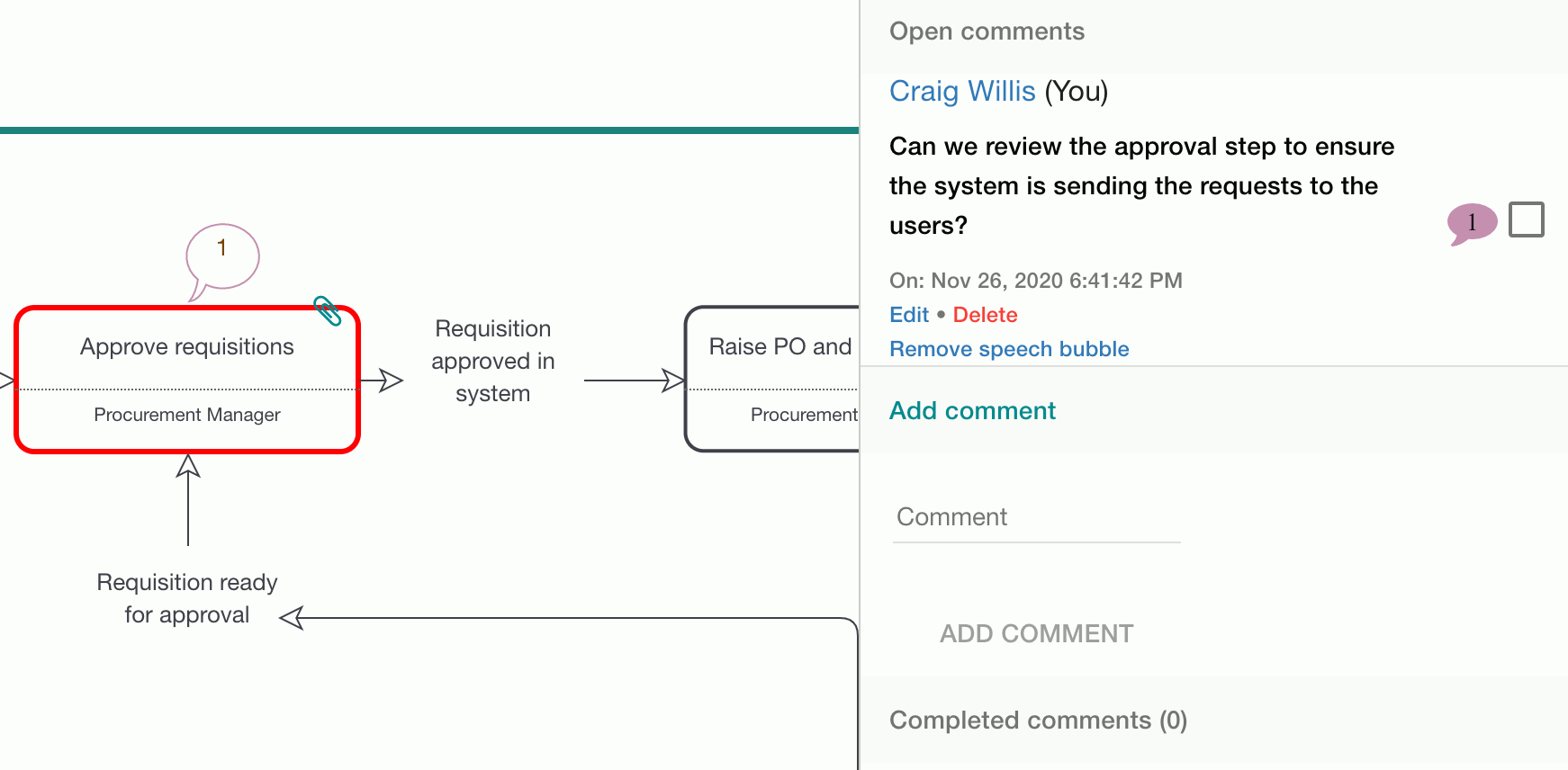 Public Sharing
Share a process publicly with anyone anywhere on the internet. Once saved for public sharing you can share the link to your process with anyone. No need to log into Skore to see the process.
Great for sharing public facing processes and best practices.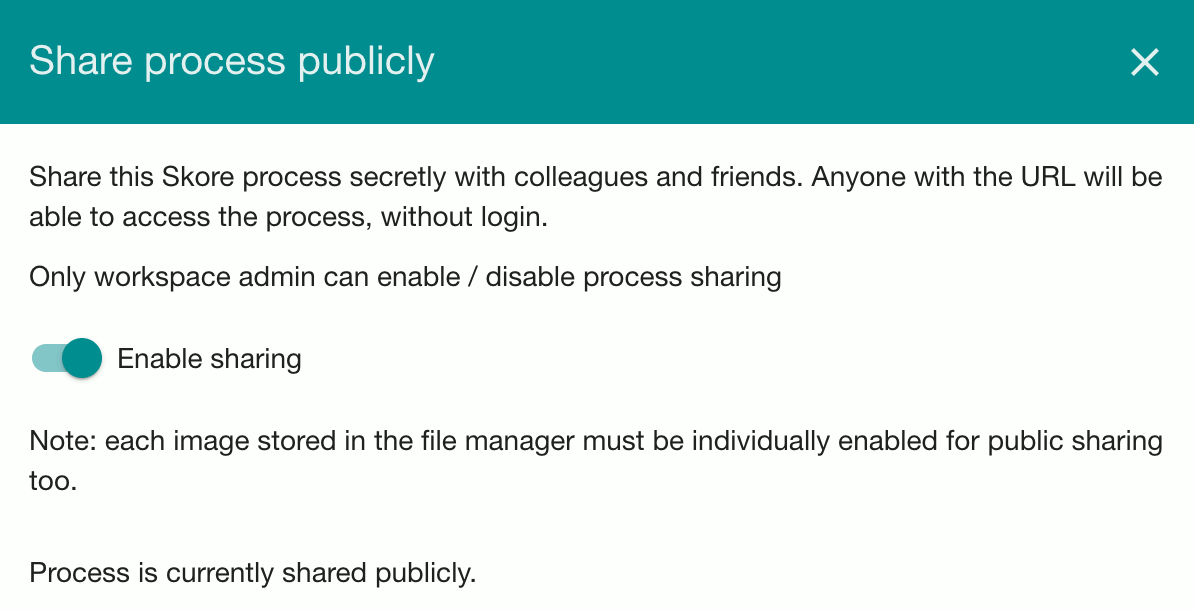 Process Approval
Send a process to a user to be approved before it is published and version controlled. You can send a process to any user in the system or have it sent automatically to the process owner. The approver will receive an email with a link to the process where they can review and approve.
Perfect for driving accountability and ownership of processes.
Version Control
Published processes are given a version number so that you can track process changes in a controlled way. Member (view only) users of the system will always be taken to the latest version of the process.
Ideal for sharing processes and ensuring that all users are following the latest updates.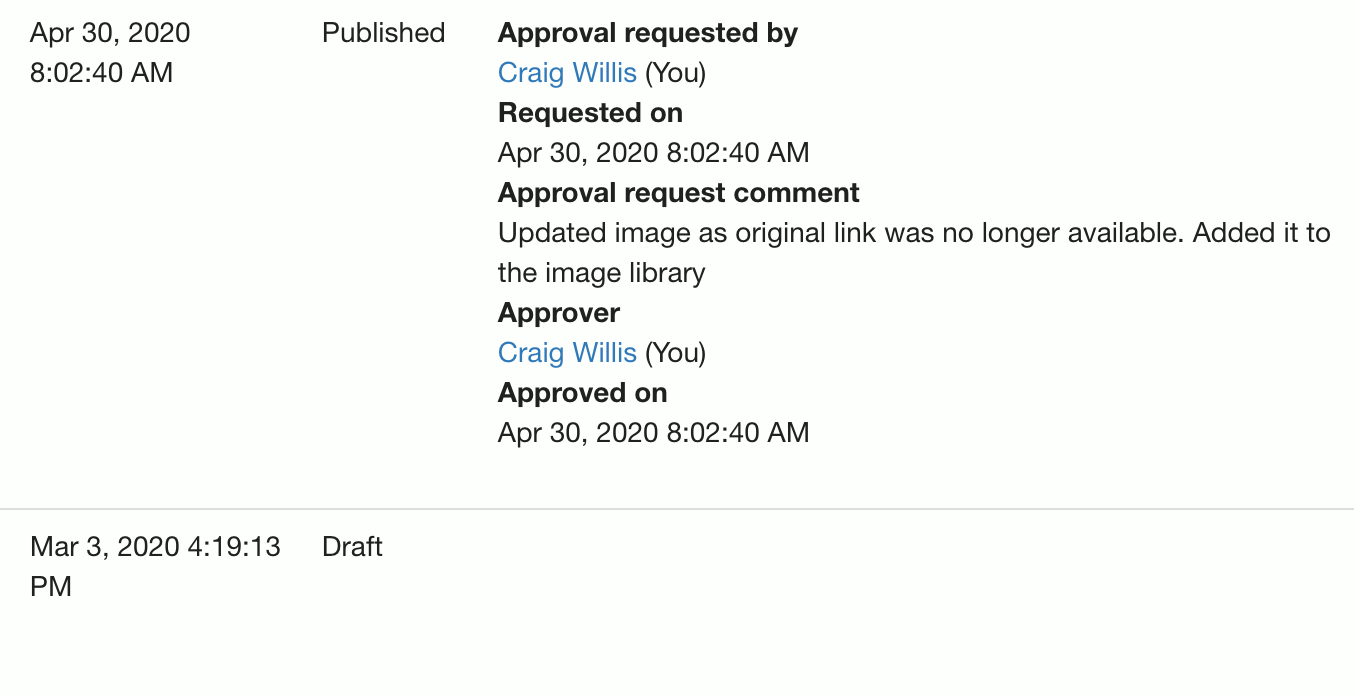 Tag a Process
Group processes in your workspace together using tags to make it easier to organise and find key processes. Processes can have multiple tags allowing them to belong to different groups at the same time.
Perfect for making common processes easier to find.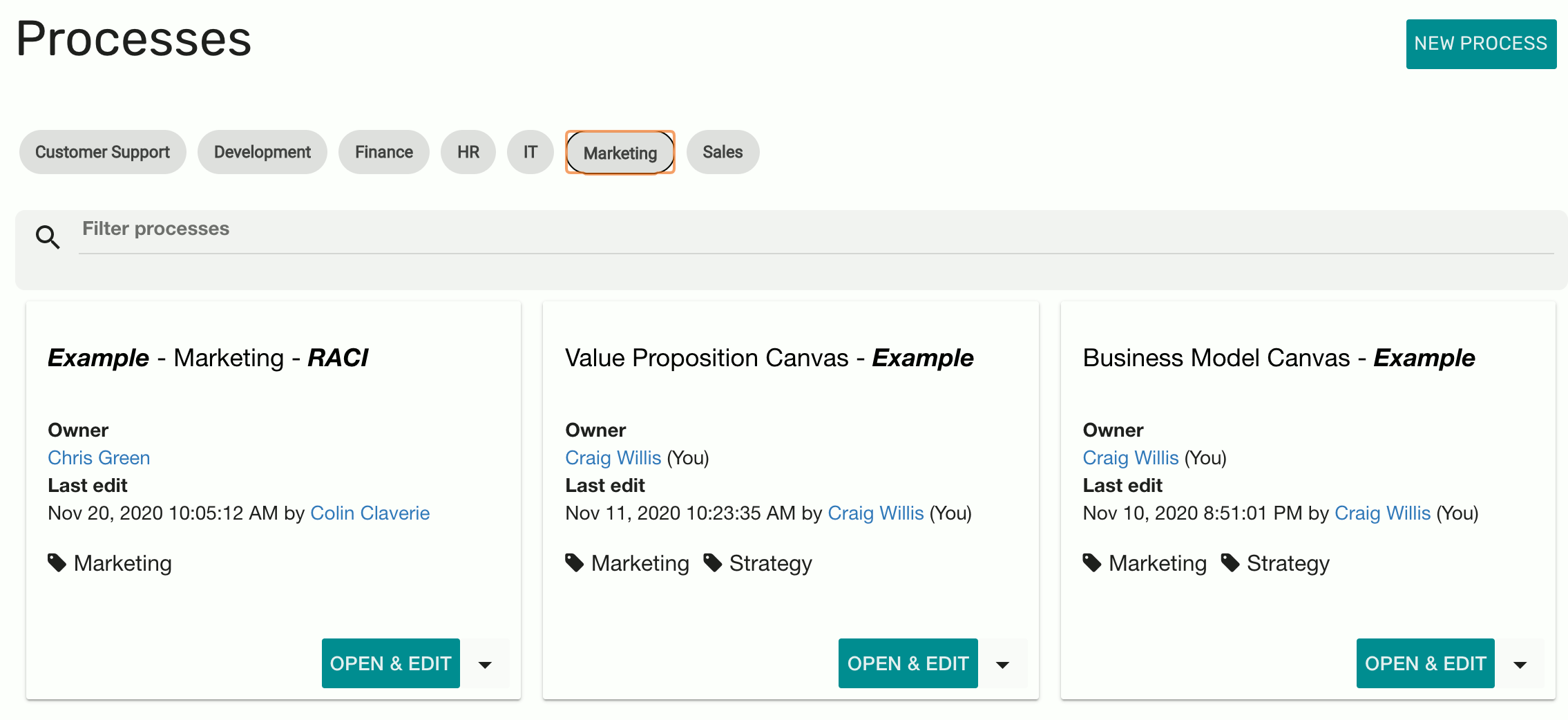 Workspace Theme & Branding
Change the colour of your Skore workspace and add your own logo to match your company colours and branding.
Great for making your process library part of the organisation.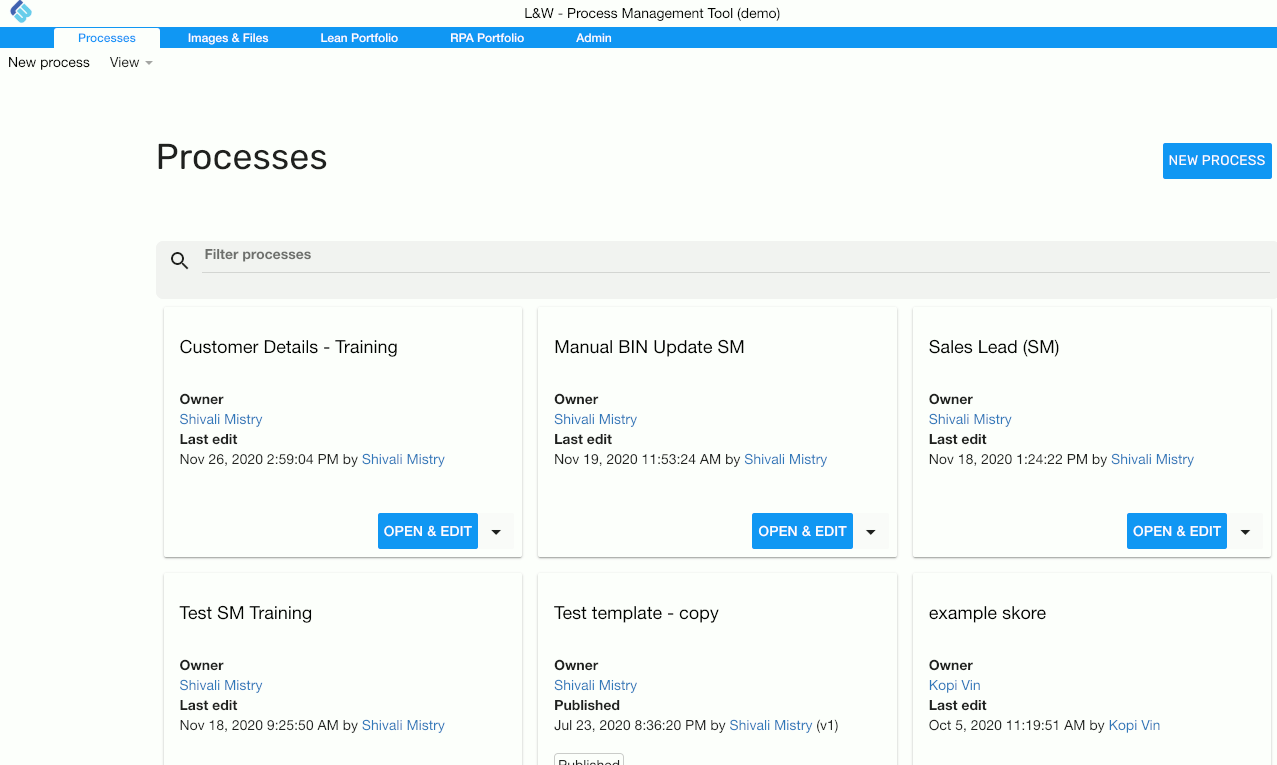 User Groups
Manage large numbers of users in user groups to make it easier to configure access rights across multiple processes.
Ideal for quickly updating access rights for a large number of users.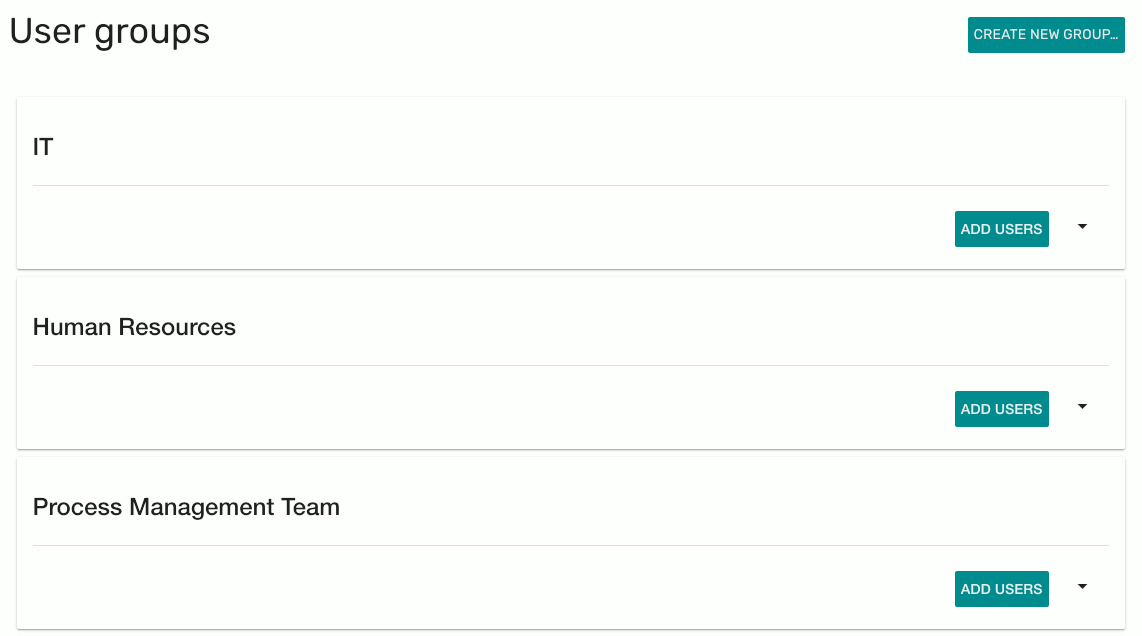 Process Usage Chart
Visualise how often a specific process is accessed across a given time period.
Great for understanding how popular a process is and when it needs updating.