Process Mapping & Whiteboarding
Skore has been designed to map business processes at the speed of conversation in live workshops. Capture processes, ideate, identify improvement opportunities and align the team with this simple and engaging approach.
Simple Process Mapping Approach
Simple yet powerful. The Skore approach combines the power of Agile user stories, Lean principles and a proven systems modelling technique to create a rigorous and simple approach that is easy to use. No complex notations, no BPMN, just easy to create and easy to read process diagrams that can be used by anyone at all levels of an organisation.
Perfect for running live process workshops in person or remotely.
Zoom in and out of your processes
Create a strategic level view of your processes and drill down into the details until you reach the level you need. All at the click of a button. No need to create multiple diagrams and then link them together. Zoom in and out of the processes to have an end-to-end and top-to-bottom view.
Ideal for presenting a multi-level view of your processes to everyone in the organisation.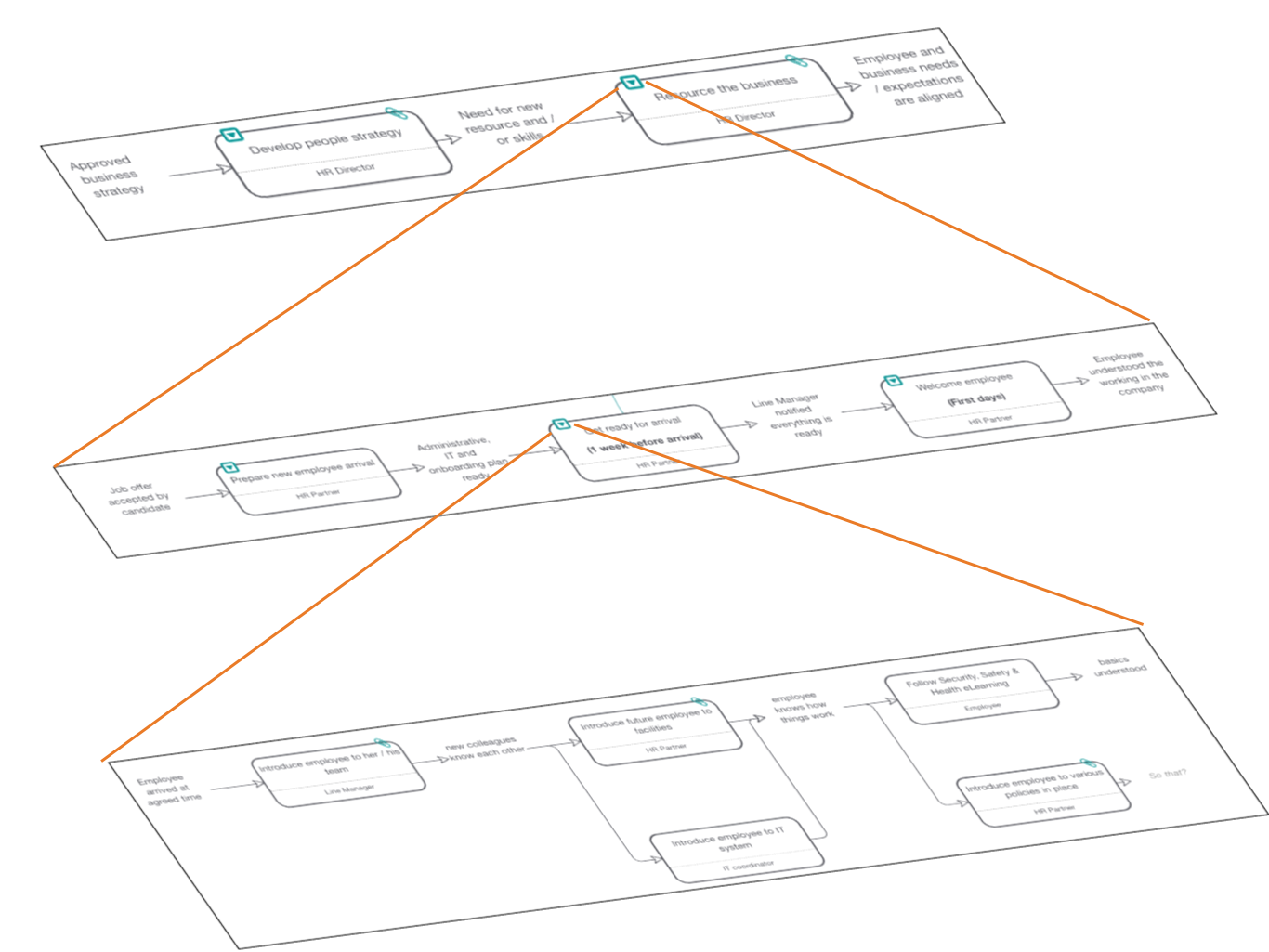 Instantly create job descriptions
As you map your processes Skore automatically creates individual job descriptions for each role. Go to the Role tab to see a list of roles and select the role description to see a list of activities, responsibilities (e.g. RACI), related documents, handovers, systems, risks and more.
Great for organisation design, hiring and clarifying roles and responsibilities.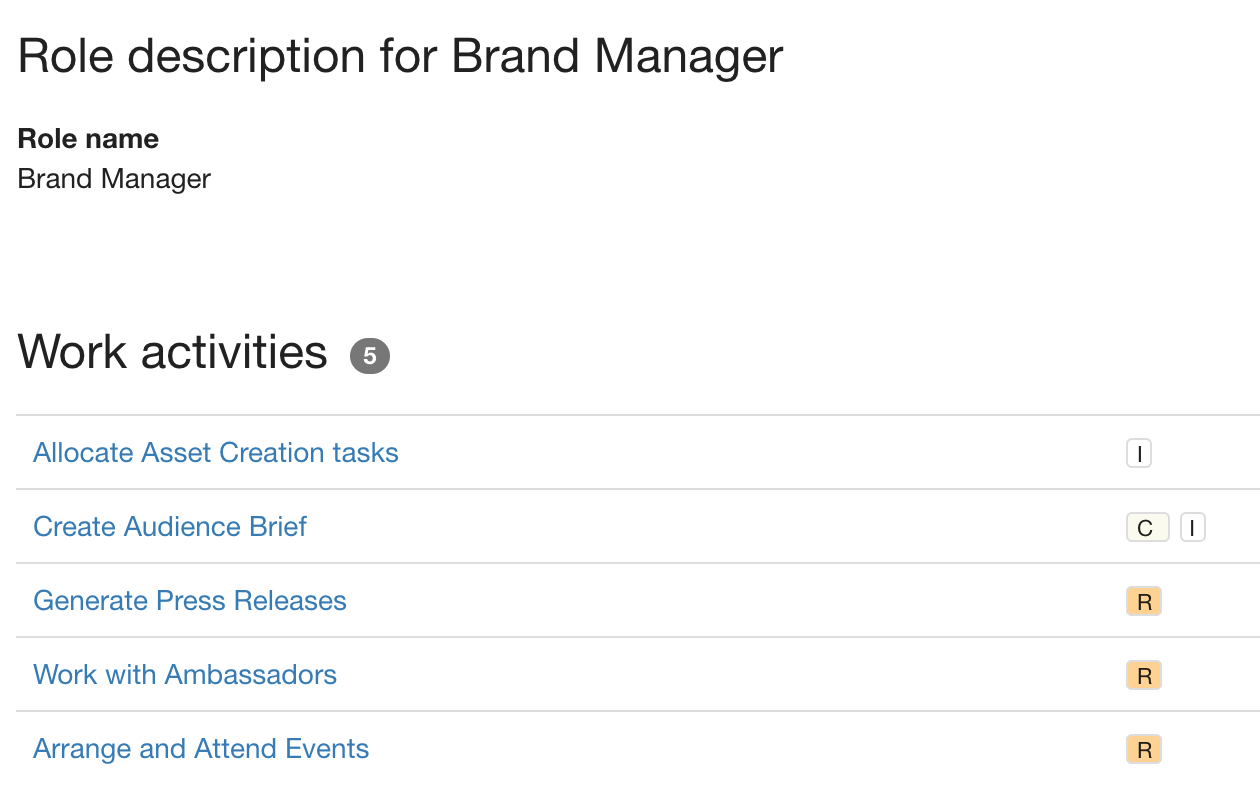 Virtual Whiteboard & Sticky Notes
Brainstorm new ideas, build mind maps, create organisation charts and organise ideas all in one place. As Skore is a cloud based software you can run whiteboard sessions remotely as well as in person.
Perfect for working on unstructured ideas and concepts before mapping processes.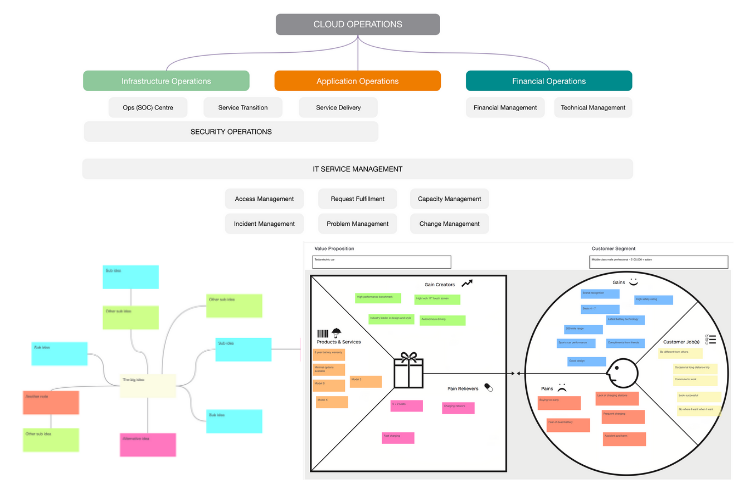 Workshop Mode
Take full advantage of your screen real estate with Skore's Workshop mode. Workshop mode allows you to use your entire screen. It hides all menus and other apps so that you and your team can focus entirely on the process and show more of it on the screen at one time.
Ideal for running workshops while presenting on a projector or screen.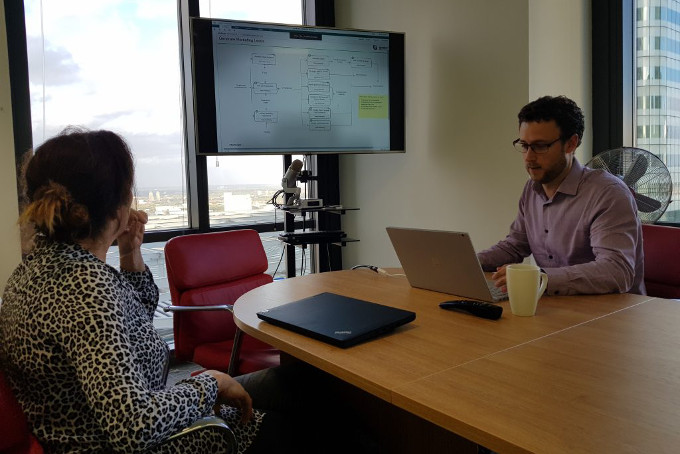 Attachments
Attach any relevant information directly to a step in your process. You can attach detailed descriptions, notes and ideas, or you can link to external documents, websites and systems to show how these relate to your process. Make it easy for users to follow the process and access any tools they need.
Perfect for providing more information and linking to policies and systems.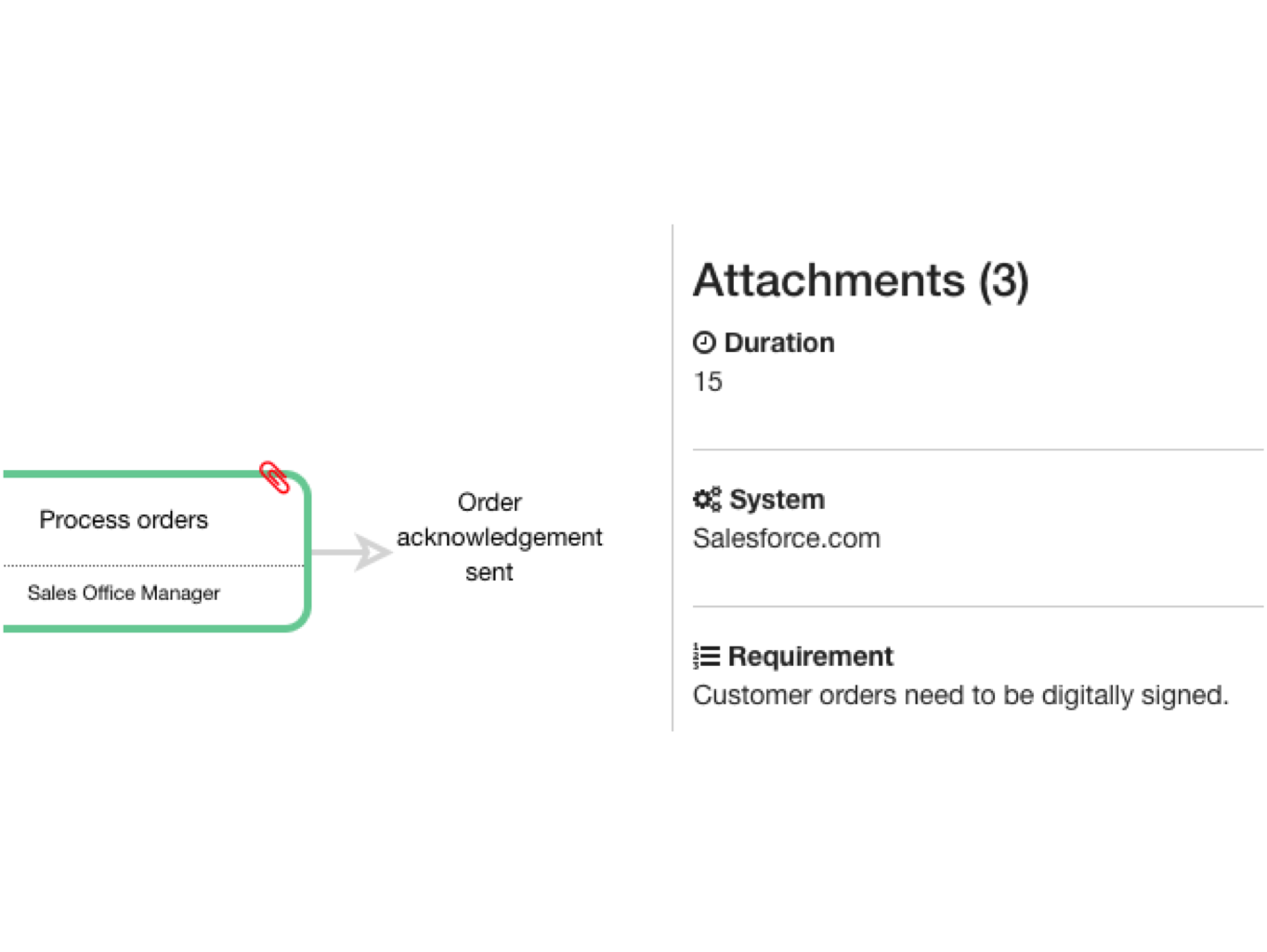 Icons
Access the built in library of over 500 icons to bring your process to life and tell its story in a visual way. Icons can be dragged onto the canvas or added to any text field to bring more visual indicators to help users understand the process. Change the size and colour of icons, or turn them into buttons by adding links.
Great for highlighting key points and business controls or simply making the diagram more visually appealing.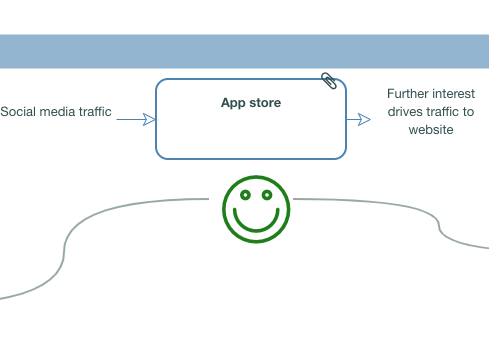 Keyboard Shortcuts
The built in shortcuts allow you to create activities, outputs, sticky notes and process flows at the click of a button. You can add many boxes to the canvas instantly, map a process forwards and backwards without touching your mouse or trackpad.
Shortcuts are made for mapping processes at the speed of conversation in live collaborative workshops.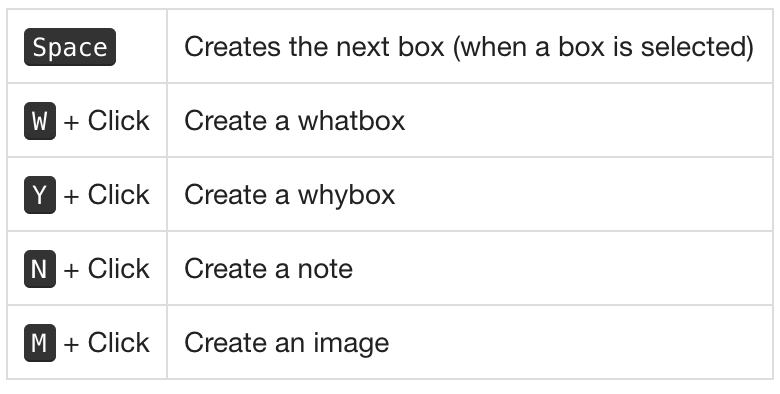 Attach Multimedia Content
Include images, videos, maps, audio content and much more to your process attachments. Provide your users with a rich and informative experience as they navigate and learn how their processes work.
Ideal for creating process training and employee onboarding material all delivered from one place.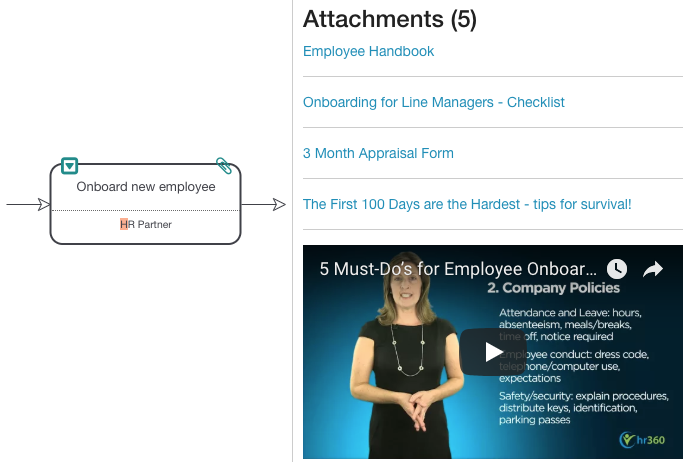 Add Images to Process Diagrams
Add your own images to process diagrams to bring them to life. Drag and drop an image from your desktop straight onto the canvas or upload to the built in Images and Files library and reuse across multiple diagrams.
Great for creating visual landing pages or adding logos and branding to your processes.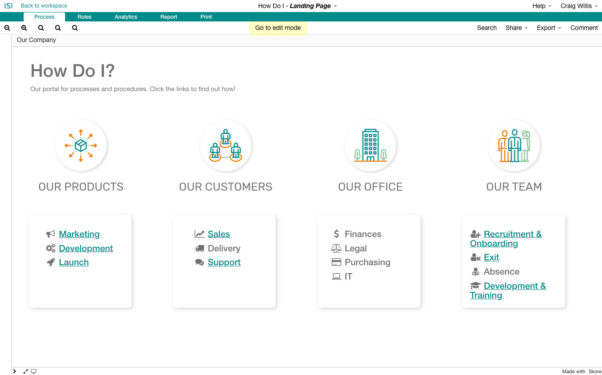 Image and File Library
Upload and store regularly used images and files directly in Skore so that you can reuse them across multiple processes and activities.
Perfect for storing company logos, background images or regularly used documents.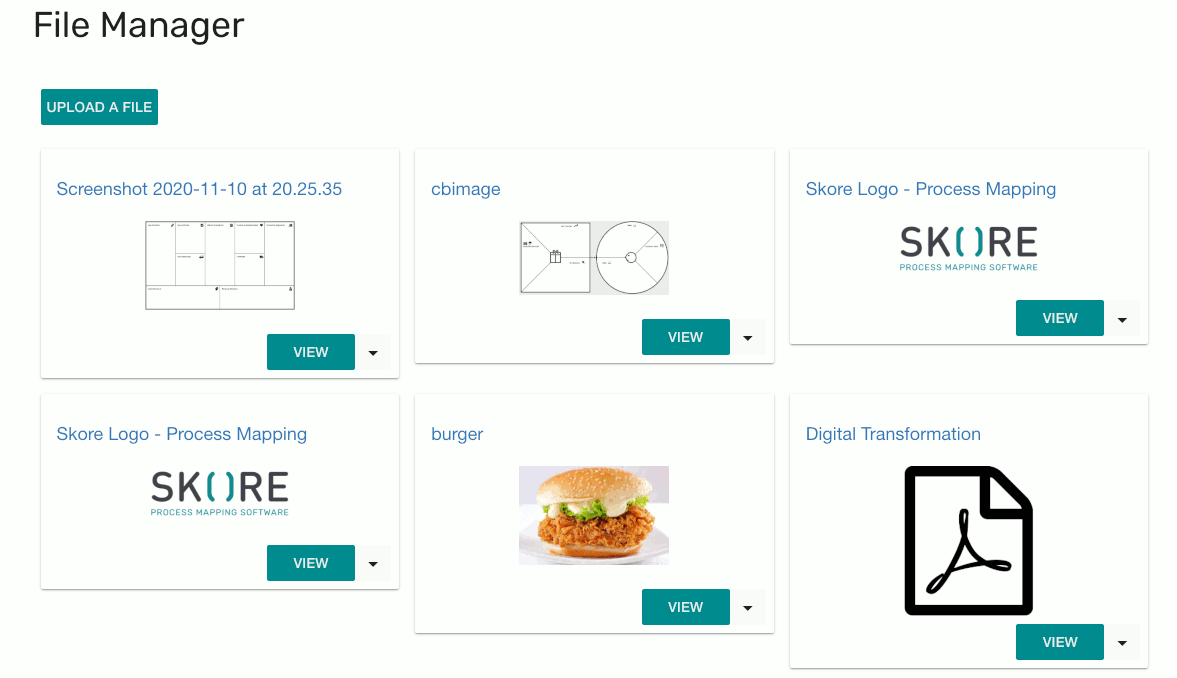 Powerful Search
Instantly search across all objects in a process regardless of level. Type your search criteria and Skore will list all the instances of your search term as well as highlighting the location on the process. Whether you're searching for a process step, a specific role or the text of an attachment you'll be able to find it instantly. Skore will even guide you to the correct level if your search term isn't shown on the current diagram.
Great for quickly finding key pieces of information or highlighting all instance of a specific word.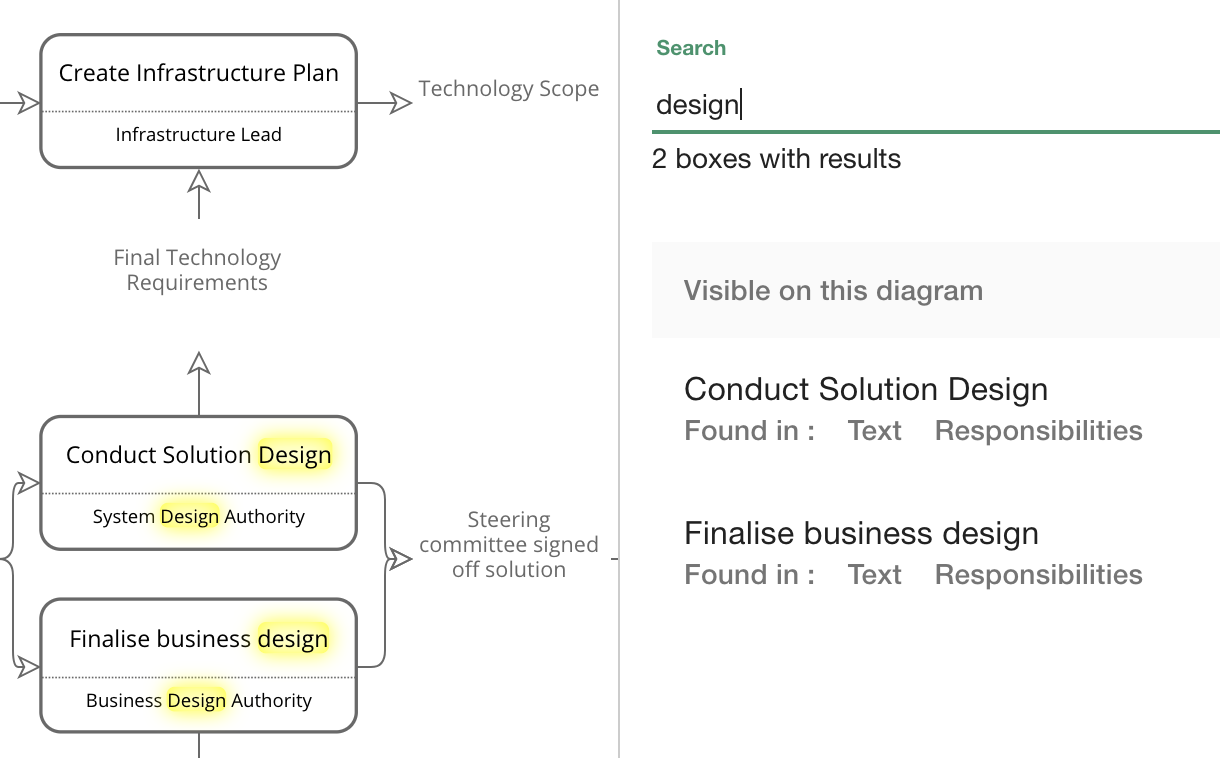 Link Between Processes
Need to create multiple processes that are related to each other? No problem. You can easily link from one process to another in the same workspace. Link any object or text in one process to any object in another. You can reference a whole process or a specific step in a process, it's up to you. Skore will even tell you how many processes you have linked to in the Analytics section.
Perfect for showing how different processes integrate and making navigation easy for anyone following the process.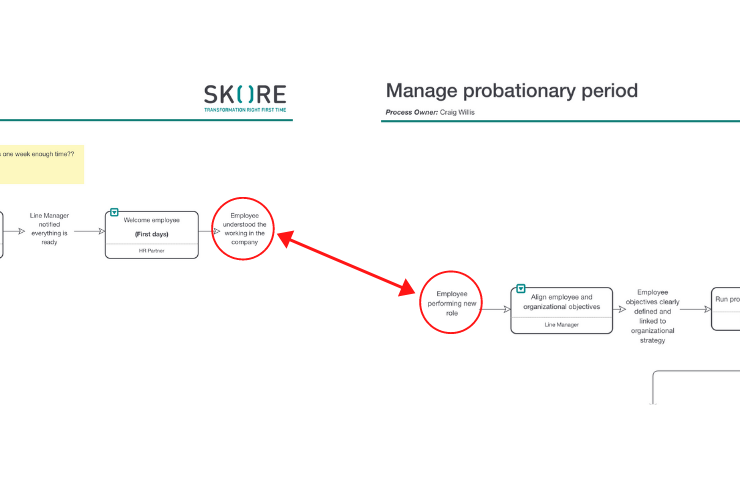 URL Linking
Link any process step or text to an external web link to provide instant access to additional information for your users, or simply to show a relationship between them.
Great for linking to documents stored in other systems or referencing other sources of information from directly within your processes.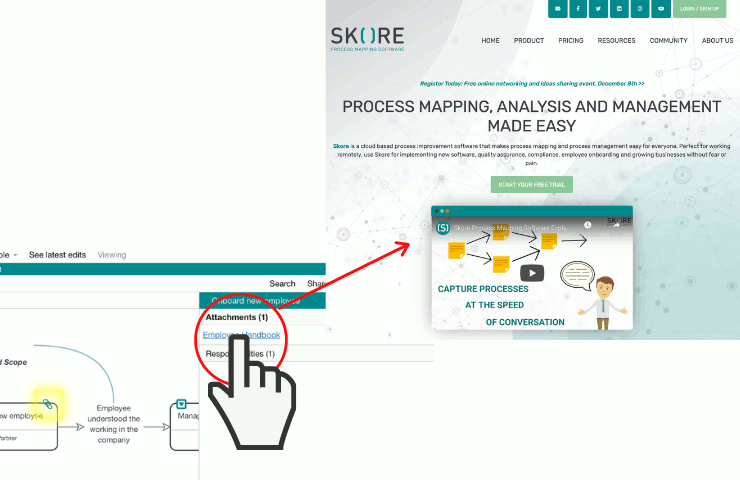 Text Formatting
Add header text, bold, italics and more to highlight important information on your process diagrams. Text formatting can be added to most text fields and used to structure descriptions to make them easier to read.
Perfect for creating landing pages and adding headings to process diagrams.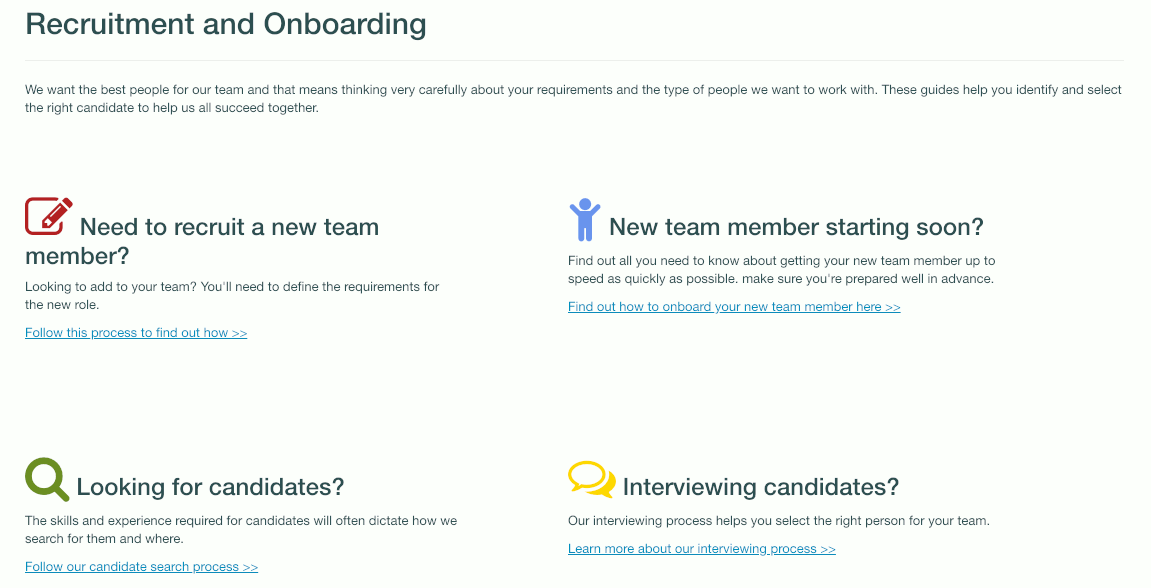 Text Variables
Text variables allow you to easily reuse common fields across your process diagrams. Standard variables include fields such as Process Title, Diagram Title, Process Owner and more. Using text variables saves you time when you want to show the same information in multiple places without having to retype it.
Great for creating customer diagram headers and displaying version control information on individual diagrams.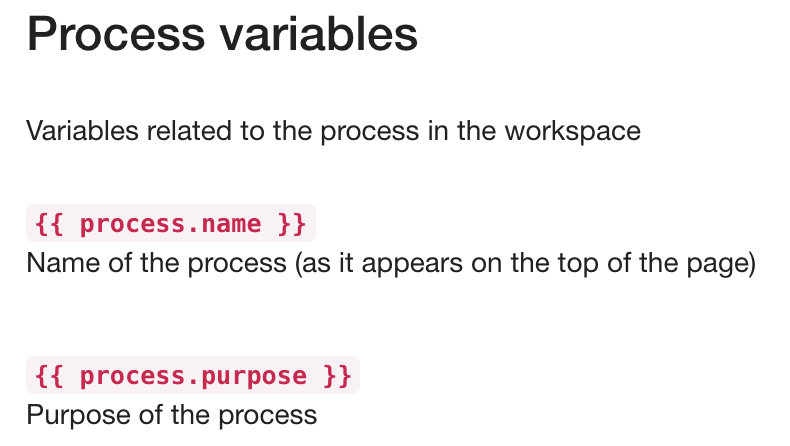 Printing (Incl. PDF)
Print processes across multiple pages or on one big poster. Print multiple diagrams at once or save as PDF through your browser.
Ideal for sharing with people who don't have access to Skore.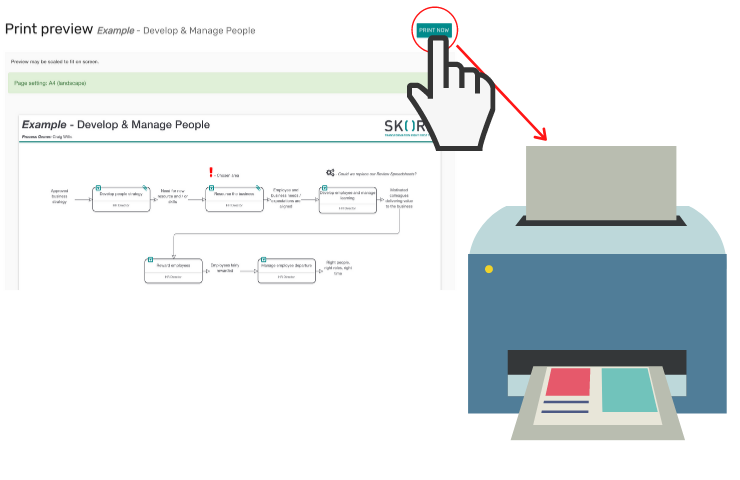 Stylesheets
Make your processes stand out with your own company branding. Create your own stylesheet for all your processes so that they align with corporate colours.
Great for personalising processes for you or your clients.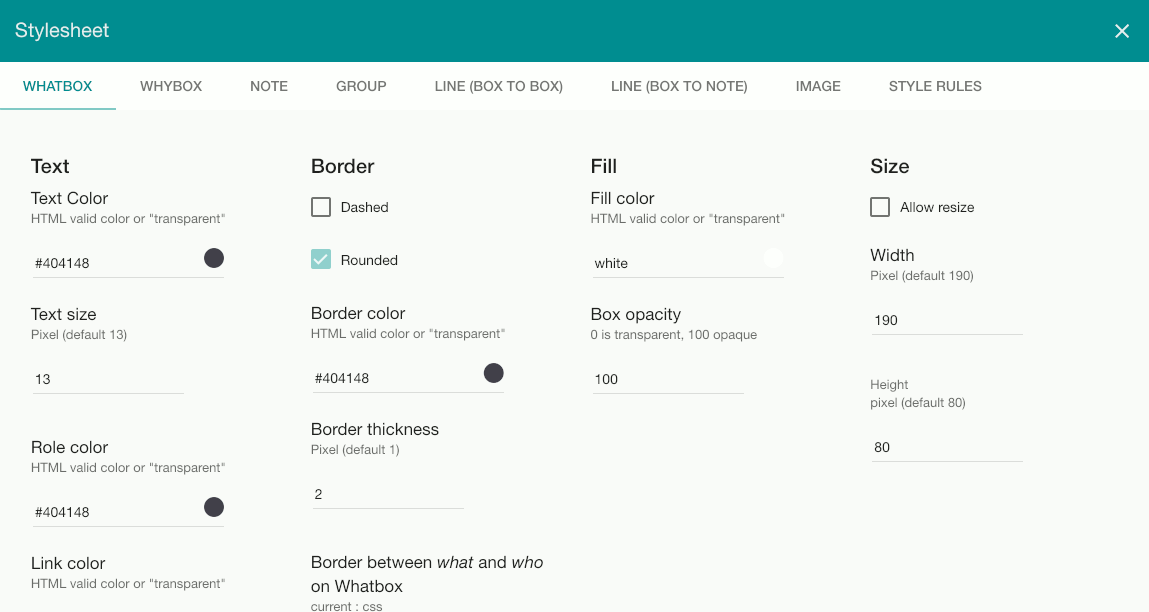 Diagram Templates
Configure your own diagram template so that every diagram and every process has the same look and feel. Add logos, titles, navigation and other process information that can be shown on every page.
Perfect for creating a standard page view for everyone.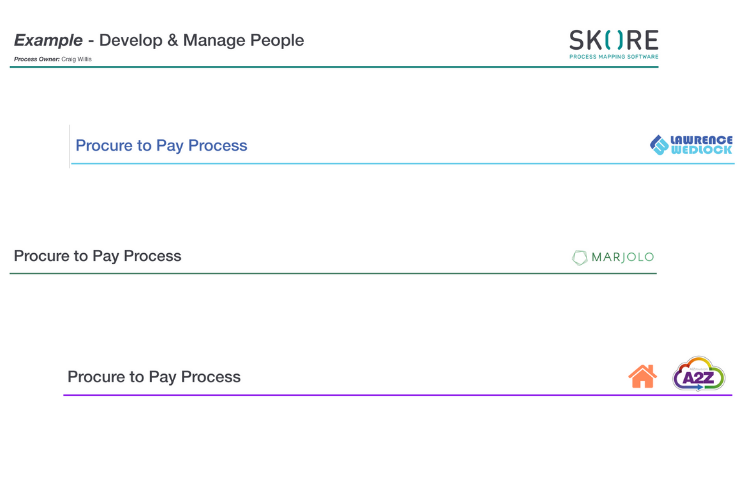 Conditional Formatting
Highlight steps in your process based on specific conditions with conditional formatting. Change the colour and style of a box based on an option you choose or the contents of an attachment.
Great for highlighting controls, decisions or compliance points in a process.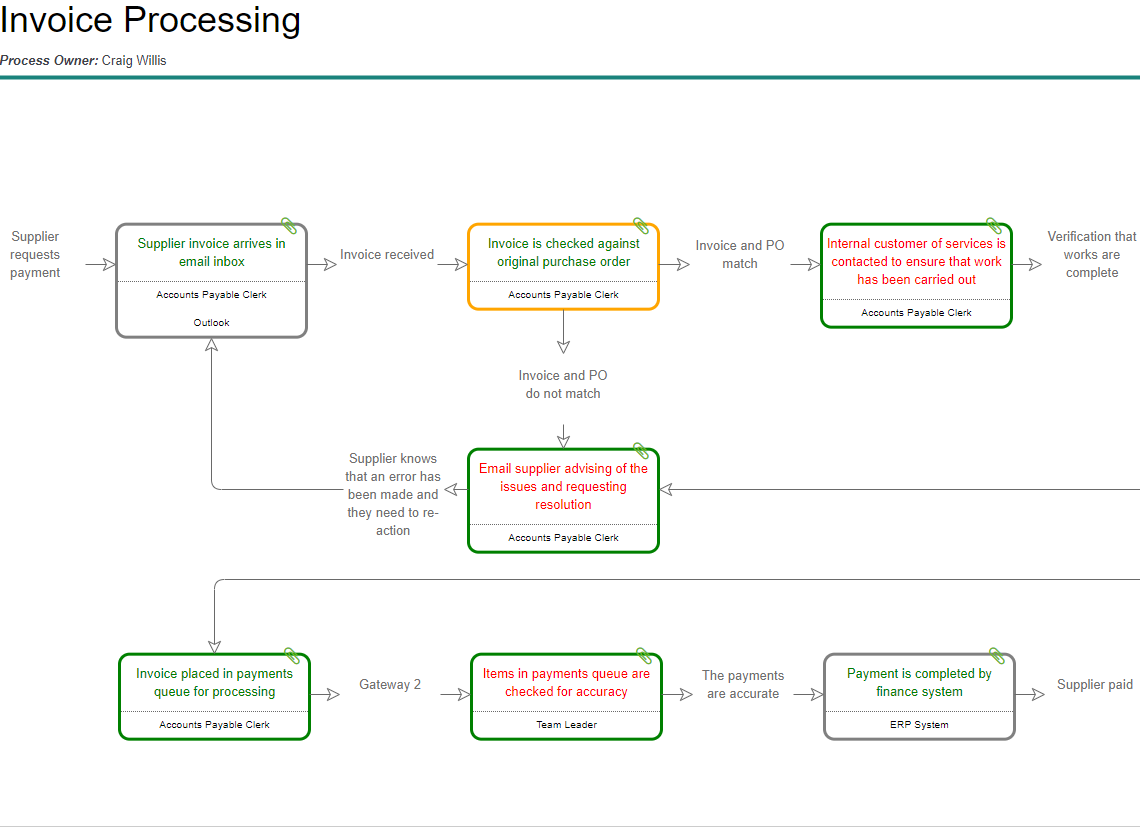 Export to MS Visio
Export Skore processes to MS Visio in order to share with other process apps or to store in your compliance system.