LATEST EVENT
7th April 12pm-1pm (UK Time)
POST PANDEMIC GROWING PAINS?
HOW DO BUSINESSES MANAGE ACCELERATED OR UNEXPECTED GROWTH?
In this event we explore how you can leverage the power of process to solve your most painful growth challenges.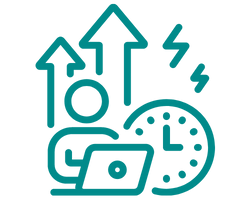 Whether you tapped into new markets during the pandemic or your business is righting itself after the downturn, many businesses are dealing with a rapid rise in activity. This is happening against a back drop of rising inflation and an extremely competitive recruitment market.
Join our panel of experts to hear how you can leverage the power of process improvement to solve your most painful growth challenges.
There's never a bad time to start considering process improvement, the hardest thing is knowing where to start. In this Skrum session our panelists will be sharing stories and examples from businesses going through rapid growth, the challenges they face and how they are resolving them. Join us for this interactive networking event where you'll have the opportunities to post questions to our panel and share experiences and knowledge with your peers. 

Optimization Director – Azets

Delivery Director – Marjolo
In our November session guest speakers Tania Carter and Mirko Kloppenburg  explored the topic – Process Improvement – What do you need to embed it in your organisation? Our guest panel shared their expertise on how to get started with Process Improvement and the key benefits. They discussed the toolset you need to ensure you have the right foundations for growth and how to get your team on board. Take a look at the recording here.
This September our Skrum event featured guest speakers, Amanda Budler from Analyze Consulting and Adrian Reed from Blackmetric Solutions. We explored themes focused on the topic – Business Analysis – Art or Science. Discussing the vital role that Business Analysts play in Change Management projects our experts gave their tips and insights on how to ensure that BAs get the recognition they deserve. You can watch the recording here.
Our June event highlighted the importance of integrating People, Process, and Technology in Transformation Projects. The event also featured a lively panel discussion with special guests Nick Bantick and Katie McConochie who discussed getting the right balance when engaging teams in successful change.
Our Skrum events are open to anyone interested in sharing ideas and views around Change and Transformation. Take a look at this event and discover some of the topics we have covered.