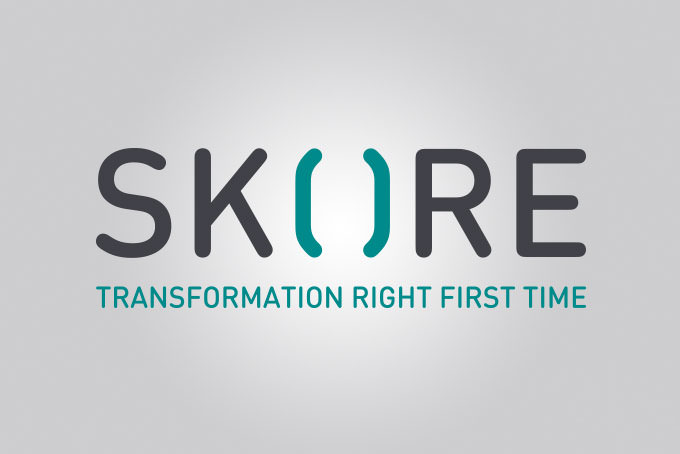 Bringing RACI into the 21st Century
In this presentation we look at some of the problems with RACI and explore visual RACI modelling with Skore app. A text description follows the presentation.

People are looking for an alternative
Over the past 12 months we've seen a lot of search traffic arrive on our blog looking for alternatives to RACI. In fact our blog post "Forget RACI – RATSI makes things clearer" is the second most popular page on our website.
A quick search on Google throws up a lot of articles trying to explain how to use RACI. Clearly something isn't working.
What is RACI?
RACI is a tool for helping teams clarify roles and responsibilities, or rather, who does what around here! RACI stands for:
Responsible – the person responsible for doing the work
Accountable – the person ultimately accountable for the delivery of the work
Consult – A person that needs to be consulted during the work
Inform – A person that needs to know about the work
It's typically used in a matrix form with roles along the top which can be cross referenced against activities down the side.
There are many alternatives
The concept behind RACI is sound, the idea that it should provide clarity around who does what in a project or process. However there are many different variations on the theme such as:
ARCI
RASI
RACIQ
RACIO
RATSI (our favourite)
RAPID
RACSI
DACI
CLAM
Each of these appear to be attempts to clarify and improve the definitions of each component. Some have a different focus such as on decision making or outcomes.
The problem with RACI
One of the biggest criticisms of RACI is the ambiguity in meaning between the different components. For example the difference between the meaning of Responsible and Accountable.
At a recent Skrum meetup we asked the audience to explain the difference. Even among this experienced group of change practitioners we found opposing meanings for these two definitions.
Another criticism of RACI is the lack of detail around the activities and the level of involvement expected from the different roles. Of course getting the level of detail right is difficult, too detailed and you don't allow flexibility for the team to make their own decisions. Not enough detail and you leave too much open to interpretation and therefore don't solve the problem of clarity and who is responsible for what.
As well as a lack of detail RACI doesn't describe outcomes, it tends to focus only on activity. Including outcomes can provide more clarity around the work required and further clarity on the difference between the person doing the work and the person owning the outcome or deliverable.
Finally, a major problem with RACI, and it's siblings, is that the resultant documentation (typically a matrix in a spreadsheet) is just too big and complex to be really useful to those that need it.
Introducing visual RACI modelling
Over the past 5 years we've been practising a form or responsibility modelling based on our process framework approach. This combines the definition of activities, outcomes and roles into a single picture.

This means, as a user, I can quickly and easily see the work required, how it flows, the outcomes expected at each step and the responsibility level. All at a glance.
With our framework it's very easy to take each of those activities and break them down into more detail as required. So you can really get into the details if you need to.
When you reach the lowest level of detail required you can add as many roles as you need to each activity. You can choose to show these on the diagram or you can hide them in the responsibilities panel to keep the diagram clean and simple.

This information is available to any user that needs to see it and is easily searchable by any user with the correct access rights.
RACI reporting and analysis
Defining your activities, roles and responsibilities in a clear and visual way is an excellent way to get clarity among the team. Not just when you first gather the information but also as an ongoing asset, or reference tool, for the team in the future too.
Using Skore to capture this information not only makes it easy it also instantly provides additional insights you simply wouldn't see if you were using a spreadsheet.
With the click of a button you can view a tabular report showing the activities, roles and their RACI assignment.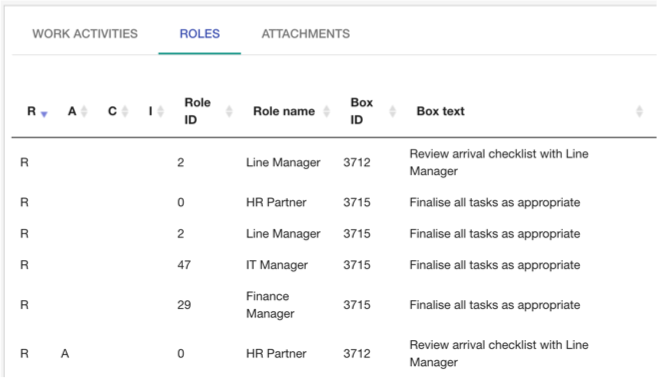 Using this data you can quickly create graphs that highlight patterns and help you focus your analysis and improvement activities.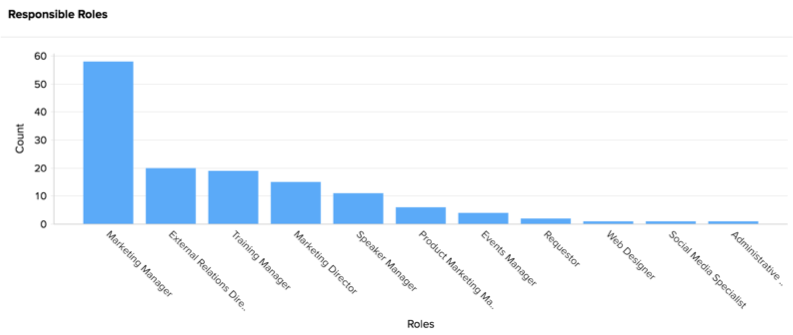 Finally Skore provides instant job descriptions based on your RACI modelling. Clicking on the name of a role will show all the activities of that role and their RACI assignments. Ideal for exporting into job descriptions.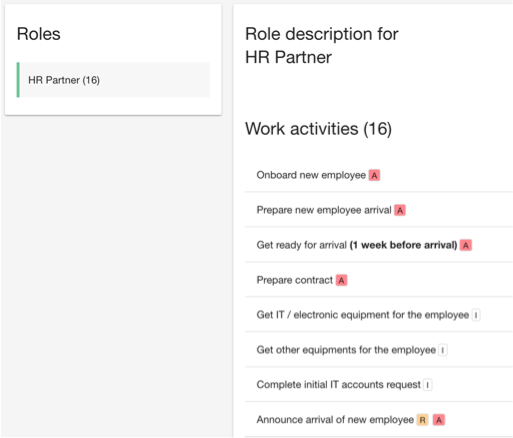 If you would like to learn more about using Skore for RACI modelling please do get in touch info@getskore.com.
If you enjoyed this, please share it: