Changing Change within the NHS
This month we are featuring Laura Copas, Co-Founder and Change Architect, from Get Real Change. Get Real Change is a Skore partner and uses the Skore software platform to facilitate and accelerate change in projects across industries. Read Laura's blog below to learn how they succeed in change and acceptance and find out how you can master these essential skills. 

Change is changing. We know that we can only achieve sustainable results through people not just developing new capabilities, but also through the shifting of mindsets, behaviours and interactions. Yet still more often than not its structures, systems and processes that are the main focus in change rather than people. And despite all of the evidence that tells us otherwise, the traditional delivery approach of 'tell and sell' to gain 'buy in' rather than meaningful engagement still becomes the go to.
In this blog we will explore why this happens, and what a different approach involves. Alongside this blog we recommend reading the case study of our work with Mental Health Services where taking the people focused approach had life changing results for Children, Young People and their Families in South West London here
The Performance Paradox
The diagram below is a familiar picture and drives this traditional change paradigm.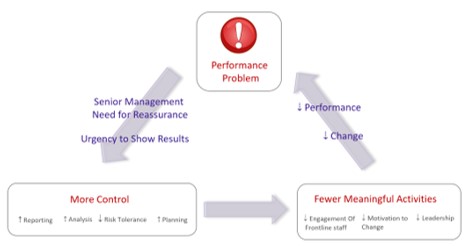 We've all been there. Things aren't going well and in fact they feel like they're getting worse. We're worried about results, we're worried about reputation, and we're even more worried because the situation is complex, messy and without a clear solution. At this point control activities tend to kick in as we are under increasing pressure to provide assurance and show results. Initial positive feelings of productivity and confidence rise as increased analysis, planning and reporting takes place.
However, the problem is that the more time that is spent on these control activities, the less time there is to spend on engagement activities. So when it comes to delivering on those plans, people 'resist,' and change happens slowly or not at all. Performance worsens and we go around the loop again resulting in the hierarchy being used more and more to 'tell and sell' the change as time to deliver runs out.
The People Approach
Fear is the worst motivator for change. At best the speed of execution of existing approaches is increased but at worst is a burnt-out workforce who no longer trust you. In todays world where no single leader holds all of the answers, organisations are dependent on the creativity, innovation and collaboration across the workforce. Unlocking these skills and effecting lasting change requires fostering psychological safety and gaining commitment (rather than compliance) through meaningful engagement.
Taking a people approach and meaningfully engaging means creating space for teams to come together to explore, and to collectively make sense of the current situation. It involves those people who will ultimately need to change their ways of working being involved throughout the cycle to co-create the change. It requires leaders becoming dealers of hope, co-creating an exciting vision for the future and taking time to tend to peoples concerns. It involves experimentation, shared learning and celebrating successes. It requires patience and starting small and so much more!
At Get Real Change we are passionate about change and helping individuals and organisations to break out of the performance trap. If you're excited to learn more about creating energy, excitement and commitment for change then we run a number of open workshops where we work with you to build those skills. We have a number of workshops coming up soon which can be found at our website: https://www.getrealchange.co.uk/workshops. We'd love to see you there