Chaos to Conviction – Essential Discovery for Successful RPA

Like any automation, when developing a new process mapping techniques for RPA a high degree of certainty is required to make it work.  Teams must clearly define exactly which screens to interface with, the exact data required and the correct manipulation, if you want to achieve successful RPA process mapping.  

Get any of this wrong and your robot may be fast, they may be cheaper than a human, but the output renders it worse than useless, even potentially dangerous. However, the way humans work, especially in organic process, is rarely full of certainty. Processes can be opaque, overly complicated and difficult to explain. To bridge this gap you need a stable approach to RPA process improvement.

A Solid Framework

Traditionally you could simply rely on an experienced consultant who's done this before, however these are hard to find and can be expensive. A good analyst, or subject matter expert, should be able to achieve the same objective providing they are supported by a robust framework.

This is so key because it makes sense of what can appear chaotic. Humans each have a unique way to describe what they do so one of the first things to do is to be able to standardise that output.

As an example, in a recent project we looked at a global finance process that was executed regionally. During the initial discovery sessions one could have been forgiven for thinking these regional activities were completely different processes due to the language used and approach taken.

By applying a framework we were forced to ask: where does it start? what happens? who does it? with what? and what's the output? This immediately provided simple data to work with – essentially – are they starting with the same input and are they aiming to produce the same output?

Using this approach meant that instantly it wasn't us challenging the user but the framework itself. This simple technique avoids the user becoming defensive, or feeling threatened, when challenged about how they work. In our example our adherence to the Skore framework resulted in a successful process mapping exercise with the bonus of no egos hurt or relationships damaged.
Repeat, Repeat, Repeat.
This first pass at process mapping rarely gets you straight to the answer but it will start to make sense of what's going on. Once you've established the start point and endpoint of one or more processes you need to understand how they actually work. 

Take each step in a process and break that down into the next level of detail. This ensures that all your work is captured in the context of the wider process. Continue the previous line of questioning until you can clearly describe the process as if you had done it yourself. This is much easier than it might at first sound, providing you follow the guidelines of the framework. You may need to repeat several times to achieve this but you can normally complete this in one or two sessions.

Apply the RPA Lense

Once you've captured the process you'll already be thinking about which parts are suitable for RPA. It's time to combine your solid process mapping approach with available software.

This helps to quickly identify standardised inputs and outputs, interfaces suitable for RPA, decision making and so on. Software will support your decision making to ensure you can do it quicker and more accurately. Build your business case by determining how much a process costs, how many full time equivalent roles are required, who will be impacted and the potential savings.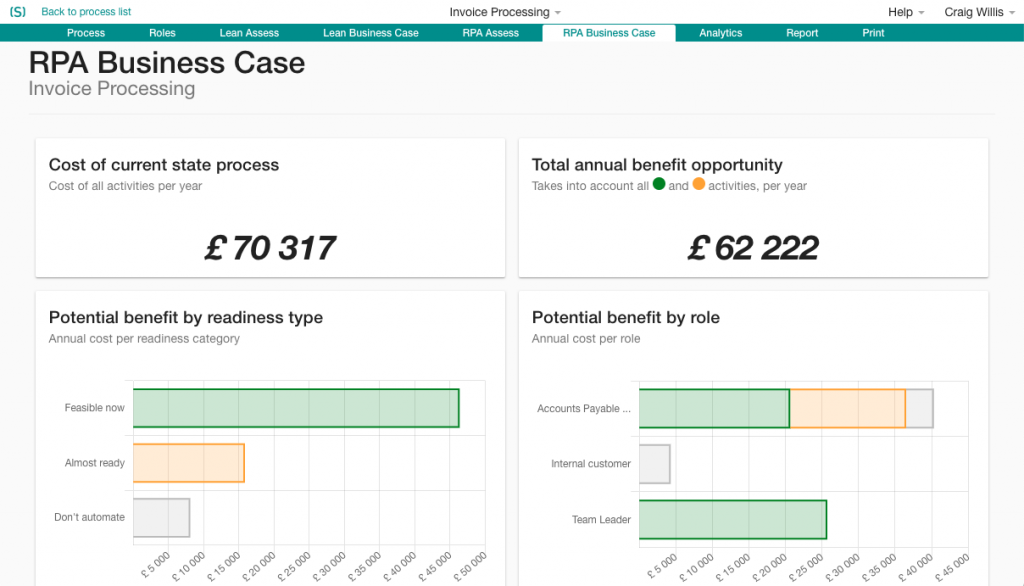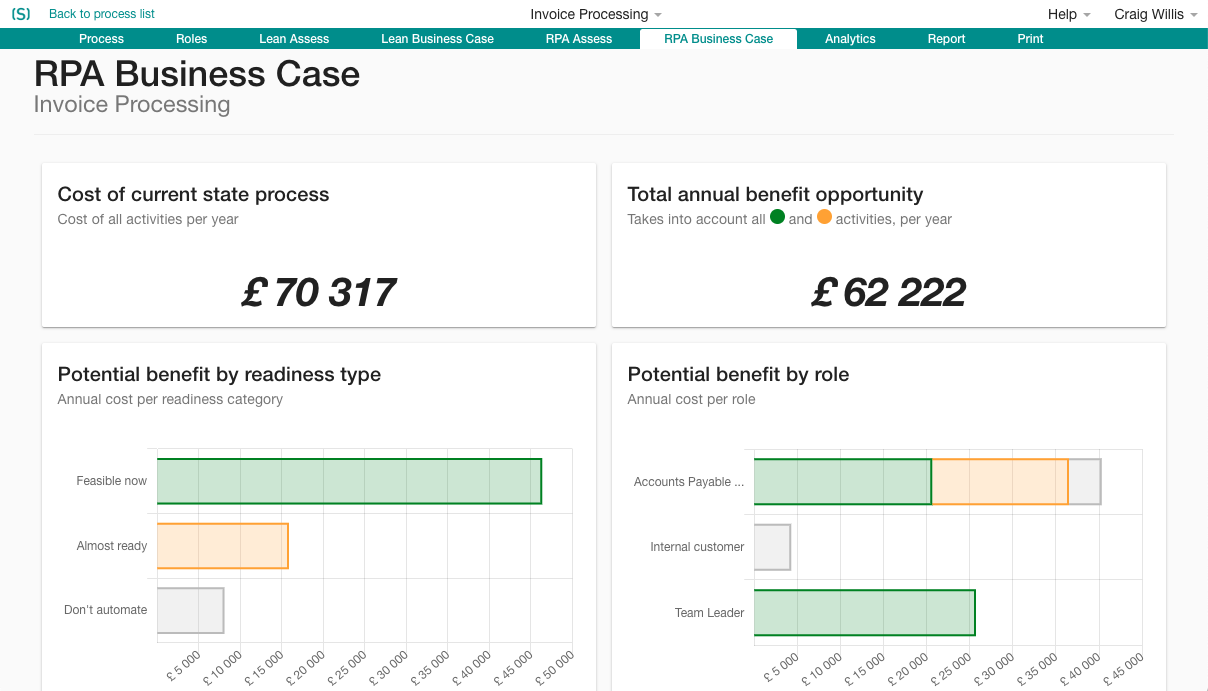 Capture and Approve the Detail
Finally, once you have selected the most suitable candidate for automation you can capture the step by step process. Again create a process map under the relevant step, capture the key stroke steps, along with screenshots, to develop a detailed design document in the context of the wider process and business case.
Successful RPA Process Mapping

Through years of experience I've rarely come across anyone that can clearly articulate their own process when asked. RPA opportunities often arise as the result of some major shift or disruption in the workplace. Where workarounds prevail however, it is even harder for a coherent process description to arise. This means that RPA opportunities can often be tricky to make sense of and get right.

Too often what looked initially like a great candidate turns out to be overly complicated with too many exceptions. A strong framework, applied methodically, will weed out those processes and help you make more informed decisions. Don't be afraid to take the time to go back and retrace steps until you fully understand the process. Repetition and reiteration are your friends in this.

Skore is a Process Improvement Software platform designed to enable anyone in the organisation to read and understand your processes. Speedily capturing processes in workshops you can get instant insights to help you identify automation opportunities, savings and start building a business case. You can find out more by getting in touch below.