How to Use a Process Map Library
Are you a business owner with several processes in place and looking to improve upon them?
Or just looking for ways to save that knowledge for future study?
Or have a location to save all of your process information?
Then you should be investing some of your time into creating a library for your business process maps.
Creating and using a business process map library or simply a Process Library, is a critical step in improving your business and making it more efficient for all parties, leading to higher revenue.
Ready to learn how it works?
What is a Process Map Library
Let's start with the basics to ensure you know this is the right place to gain insight.
A business process refers to the steps you take as a business to achieve a certain outcome for your business. An example of this is your payment process: the customer selects a product, goes to the online checkout, fills in their details, the payment goes through, and they receive an email to confirm it. If any part of this very bare-bones description goes wrong, you are either losing a customer or receiving a very angry call.
Business process mapping is a visualisation of the actions of your business to arrive at that goal. Seeing the steps depicted in this way makes it easier for business owners, employees, and stakeholders to follow along. Additionally, business process maps make it easy to discover weak points in the process: actions that may take a lot longer than expected due to sign-off times, paperwork that is redundant, or actions that are being completed by multiple teams.
And they are a collaborative team effort, which helps foster team spirit and communication, as well as loyalty.
Business process maps can come in many forms, such as flowcharts or swim lane diagrams, all of which have their pluses and minuses. At Skore, we are partial to Universal Process Notation (UPN), as it is easy for everyone to understand and follow along, requires no additional knowledge, and takes into account the importance of assigning roles and responsibilities to actions.
A business map process library is therefore a space where you save all of the maps and information of your processes.
In the past, this may have been a filing cabinet or binder full of paper that was difficult to understand for the next person as it was written in a particular shorthand.
Today, this can be a shared area in your cloud-based process mapping platform that helps you avoid any confusion or misunderstanding and is easy to revisit at any time.
Benefits of a Process Map Library
The benefits of having your existing business processes saved and visualized in one place cannot be overstated. You rely on those processes for many business decisions, and not having them readily available is detrimental to any organisation.
A business process library is crucial for training purposes.
When new teammates or employees are added, they can study the process maps relevant to their roles and duties and refer back to them at any time. This ensures that they know who to ask questions to if needed, as the responsibility is assigned to the title of individual that may be able to provide insight. And that they also know what to do and how what they do will impact the rest of the process.
Ultimately, they are able to understand how what they are doing affects business goals and can align their actions accordingly. It helps them see how they are part of achieving those goals and fosters unity in the team.
Not to mention, keeping your processes allows you to retain company knowledge. It's extremely useful for training as outlined above, but it is also important for you as a business owner to know what was being done before and how it changed over time.
Having your processes visible aids you in standardising your processes as you align them with your goals as a business. Once you're ready to scale further, you can take these existing standards and expand on them.
Having your processes saved in a process library is also an absolute must if you are seeking to optimise your process or practice continuous process improvement.
Business process optimisation is key when you are looking to become more efficient or reduce costs. And continuous process improvement is the concept of revisiting how your business actions look constantly to become even more and more efficient over time.
If your initial goal is to break even in terms of action and time with what you are getting paid, the improvement goal is to go further and get paid more for less by becoming more efficient and finding spots to reduce costs or time.
Skore as a platform is especially instrumental when you're looking to embed process improvement into your organisation.
Plus our tool Quantify exists to help you measure your business process improvement.
Once you've mapped out your processes, it will notify you of places in your process where you are facing bottlenecks and incurring hidden costs. You can then discuss with your team what changes you might take on to fix these bottlenecks.
The tool will allow you to map out what those changes look like, and also help you explore how they will impact your business over time. Changing something for the first month does not mean you will be cutting out all the time for the rest of the year. Being able to map it out from the beginning is extremely beneficial and saves you a lot of guesswork.
In the same vein, the tool takes into account your capacity at the moment when it comes to suggesting changes, meaning it presents you with what can go wrong because it is not in your current or expected capacity. When it's time to make that change, you will not be exceeding what you are capable of doing.
Once you find the perfect solution, Quantify will also help you create an understandable business case full of relevant data you can present to your stakeholders. Not only do you not have to spend time creating it yourself, but it is presented in a way that is easily digestible for all involved parties without requiring additional study.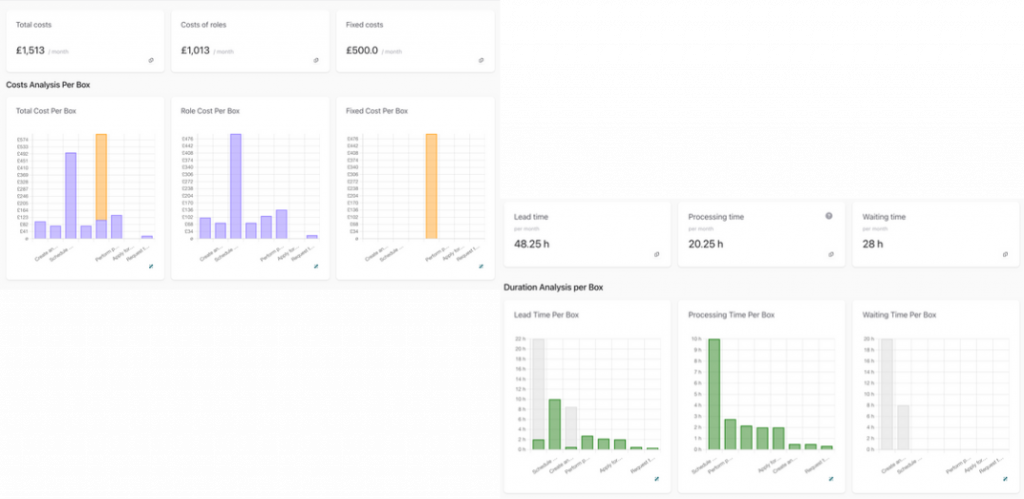 And all of this is possible because you have your processes mapped out and saved within Skore's process library function.
How to Create and Use a Process Map Library with Skore
Now that we've gone over the benefits a process library has, you're probably itching to get started in building one.
Skore is a great platform to do this, and it's easy too.
Let's dive into how creating and managing your process library works.
Each business has a workspace where all of its processes are saved and can be made. Within each workspace, there are folders, typically divided by team or department. This does not necessarily mean others can't access them – there are access controls that ensure that those who are part of a process are included – but it does help sort your process maps to the different teams that are responsible for the bulk of the work.
Within the folders, each process has a name and an owner, making it easy to tell them apart when revisiting for improvement or to make other changes. To further tell them apart, Skore has a tagging system that helps you qualify processes, based on status or project type. So if there is a particular ongoing project for a particular process, it can be tagged with the name of that project. The tag can then also be retired once the project is completed. In fact you can customise the process properties of any process, any way you like!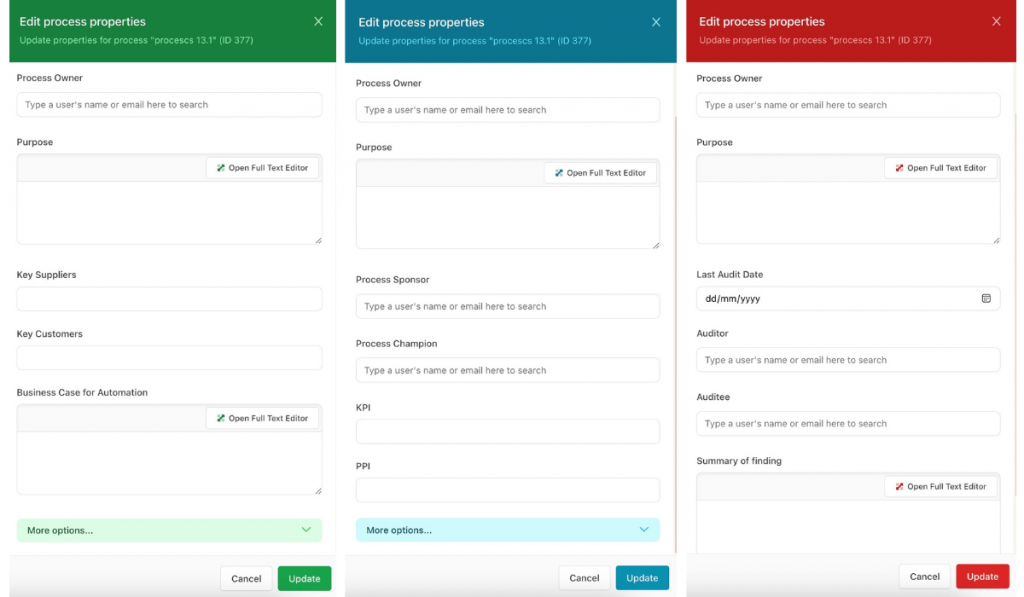 Each company also gets its own unique landing page from which you can access the different maps for each department, complete with a URL.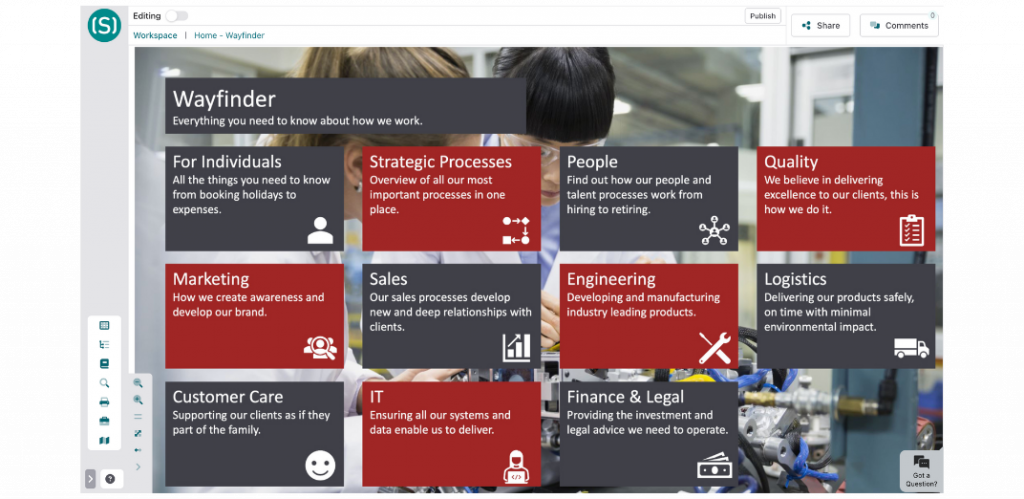 We recommend that each process map is as granular and specific as possible, as the more they are the easiest it is to manage their history and revision management. It is visible to see what version of the process map you are on, and who edited the last one. Skore will save what you've changed every five minutes as a draft, and then you can publish it with someone approving it. They will receive this by email.
Once published, this becomes the version that is opened by default, this means the version you want to use as a company, but it can still be edited and it will show this in the edits and revisions.
Any other changes are also saved in audit logs, which helps create trust and transparency, as are visits. Visits are useful to see how process adoption is working, or which processes seem to be most confusing.
With have all the moving parts, you can begin analysing your processes to achieve major efficiency!
And with Skore, you can also set up process reviews. This will help remind you to constantly review your existing processes, so you may find new improvement spots. You will be able to practice continuous improvement without having to constantly remind yourself to re-visit or re-create your processes because they will be saved for you in your process library.
Conclusion
Process libraries will help save you a ton of headaches.
Even more when they're built in a collaborative, cloud-based platform that keeps everyone involved and accountable for their roles and any changes they make.
And if you're looking to improve or cut costs, they are instrumental in helping you figure out the best places to do so.
If you're ready to begin building processes and process libraries, make sure to get in touch!