Looking for a RACI Alternative?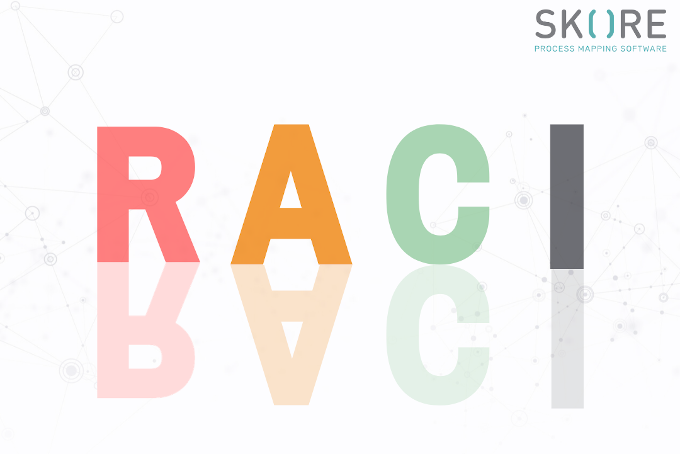 RACI is a great tool for analysing and understanding roles and responsibilities. But so often teams using it don't find it as effective as it should be. If you're looking for a RACI alternative then read on.
There are two main reasons why people seek out a RACI alternative and this article covers each of those below:
The terminology in RACI is vague and often leads to confusion. We will explore some of the RACI alternatives that try to resolve this – Jump to this section
Applying RACI is hard and can lead to large and complex documents that, let's be honest, no one reads. This section looks at software tools, including Skore, that make this much easier – Jump to this section
Fixing the RACI terminology confusion – RACI Alternatives
One of the biggest challenges faced by anyone using RACI is confusion caused by the meanings of the acronym. As a reminder RACI stands for:
Responsible
Accountable
Consult
Inform
The idea is to assign different levels of responsibility to each person involved in a given work activity. This should clarify what is expected of each person when working on that activity.
However the problem arises when different people have different views on the meaning. For example, the difference between Responsible and Accountable.
Our View
We've written about RACI here and believe Responsible is the person that actually does the majority of the work. We think Accountable is the person who owns the output of the work. This might be the director, or process owner, for example.
However in many projects and organisations this view is the other way round. Or, to make things worse, for international organisations working in different languages, the difference between Responsible and Accountable does not translate very well. Which results in these two terms meaning the same thing.
There are many different models out there that attempt to address this. Our favourite is RATSI, which you can read more about here. Here is a list of different models that are used as a RACI alternative.
There are many more, some of which can be found here.
We like RATSI because it takes the vagueness away from Responsible and Accountable. In RATSI, the R is still Responsible but this time it means the overall owner, rather than the doer. The doer is the T, or Task, and does the majority of the work. And A is for Authority, this person has the Authority to take go / no go decisions.
Tools for applying RACI – RACI Alternatives
Common Tools for RACI
Like any software tool, software for capturing, analysing and sharing RACI information should make our lives easier. The purpose of RACI is to clarify roles and responsibilities for everyone, so a software tool should help this. However, we often hear that the whole exercise has led to less clarity, rather than more, and ultimately frustration!
RACI charts are most commonly represented as a Matrix. You list roles along the x, or y, axis and then list key activities along the other axis. Where the two intersect you would record the responsibility level – R, A, C or I.
The idea is that for any given role you simply follow the row (or column!) for that role and it shows the varying levels of responsibility for each activity. Alternatively you may select an activity and look at the matrix to see who is involved.
Spreadsheets are perfect for this sort of grid and it's not uncommon to see a RACI matrix produced in something like MS Excel or Google Sheets. Common Project Management software products also often have a RACI matrix capability. You may also find some drawing programmes, such as MS Visio, will also include templates for making a matrix, although these tend to be harder to manage and update when things change.
The main problems with common RACI tools
While creating a RACI matrix in something like Excel seems straightforward, it actually has a number of problems which lead people to search for a RACI alternative. We often hear stories where people put a lot of work into creating a matrix and then no one ever looks at it again. Alternatively the roles and responsibilities in the team remain unclear.
The problem often comes from the fact that a matrix rarely exists without a process diagram of some kind. The activities represented in the matrix are generally part of a wider process, so an understanding of the process is essential.
However often we create the process as a separate document, and therefore reference it separately. Or it may be that the people don't understand the process, which leads to ambiguous activities in the matrix. Worse still, if there are too many detailed activities it will lead to an enormous matrix which is too big to read.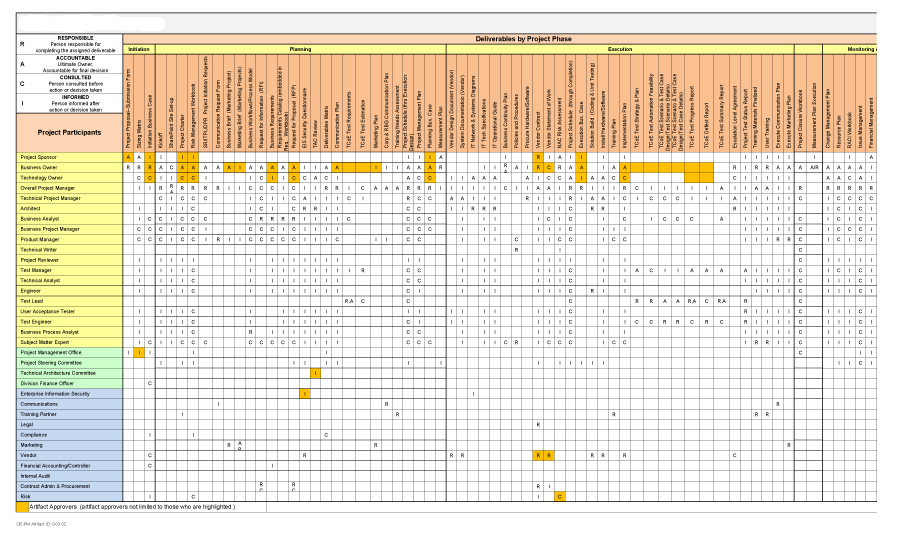 A different approach – Skore
Skore was originally designed to help facilitate process mapping workshops to capture processes at the speed of conversation. As a team describes a process a someone captures it directly into the software. Processes are mapped using a What box that describe What Happens and you can also capture Who Does It easily at the same time.
Want to learn more about process mapping? Check our process mapping guide here.
Every time the user assigns a role to an activity in Skore they can also assign a responsibility level, for example, the R, A, C and I of RACI. The benefit of this is that the team focuses on one activity at a time and agrees the responsibility level, all within the context of the process.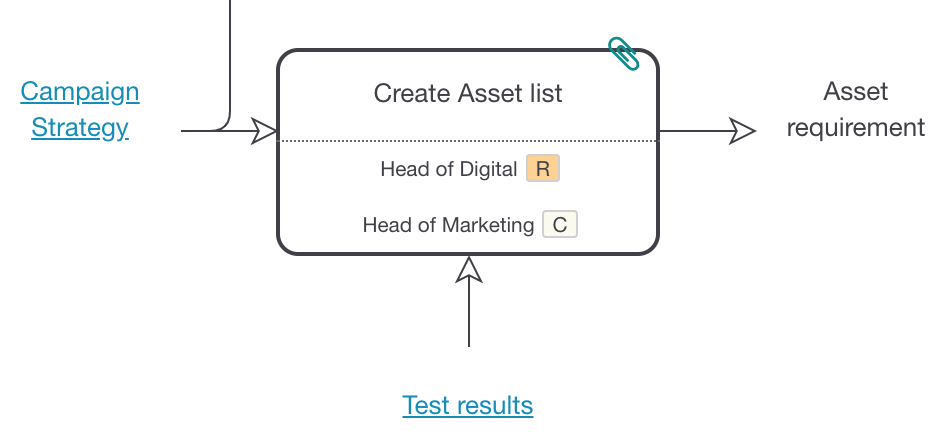 While you map a process, Skore automatically creates role descriptions showing the activities of each role as well as the responsibility level. If you're using a RACI alternative, Skore supports common models, such as RATSI and RAPID, and allows you to create your own custom model.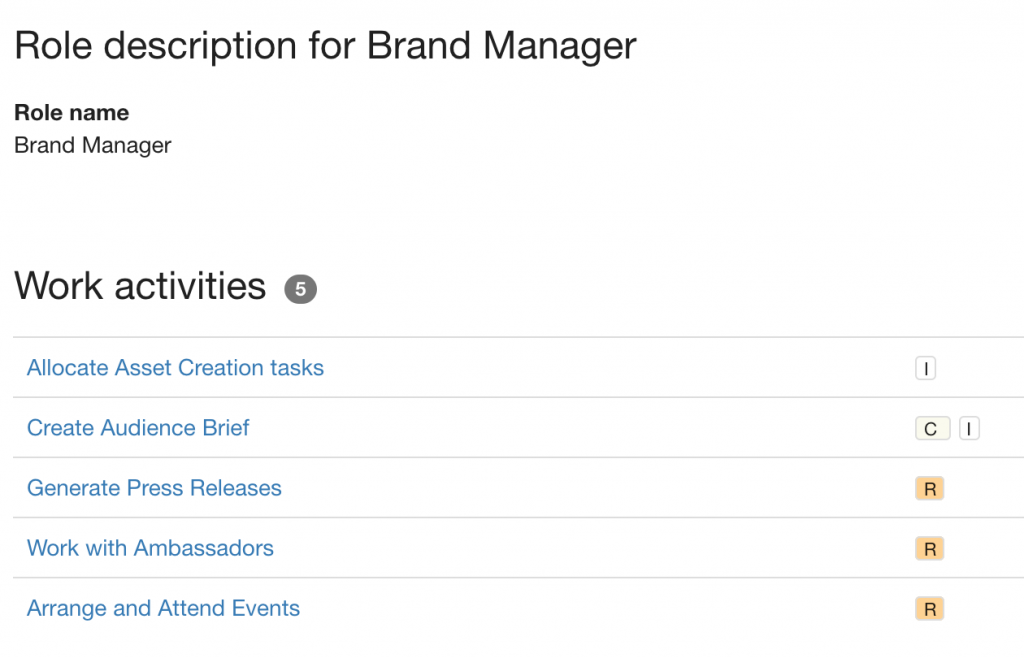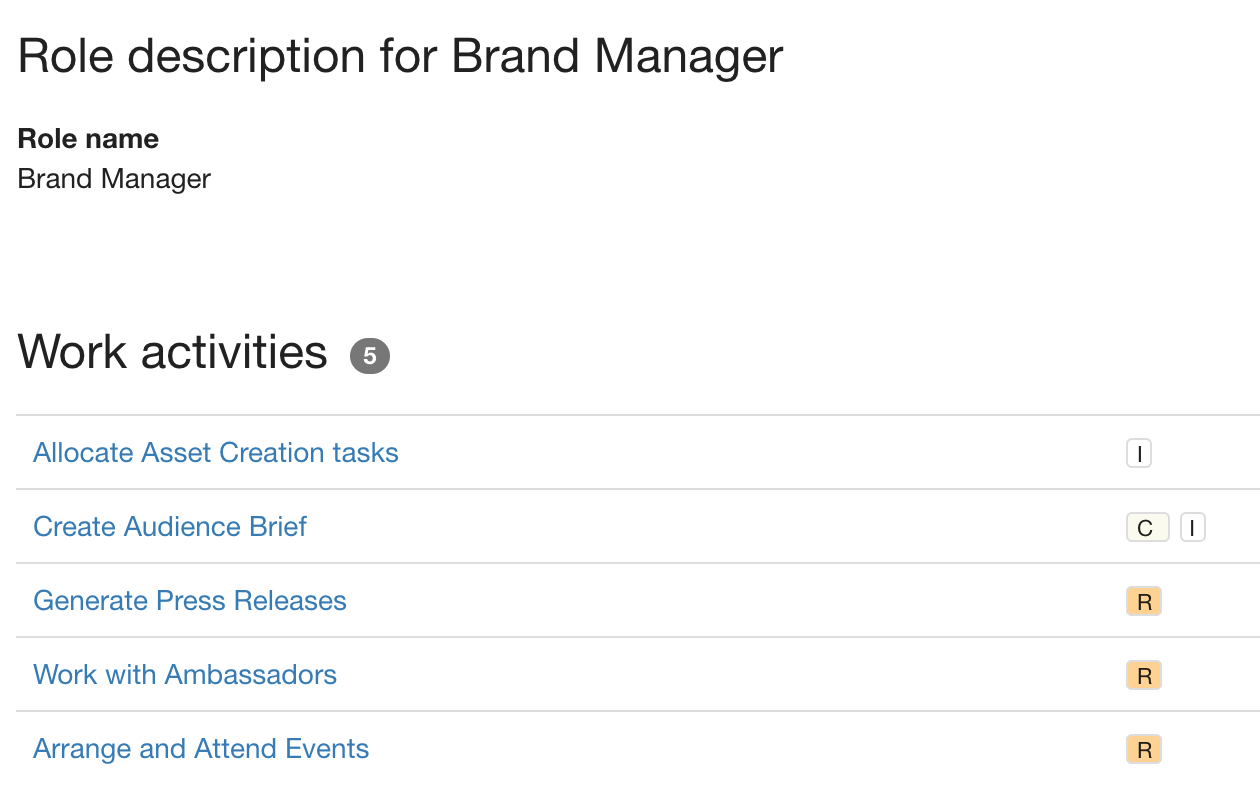 A Readable Matrix
A simple RACI matrix is generated using the Reports tab and exported to a spreadsheet when required.
One of the main benefits is that you store a visualisation of the process alongside the RACI information, rather than having two separate documents. Furthermore, Skore links the information so updating the process means you are also updating the RACI information and vice versa.
Many companies use tools such as RACI for organisation design. This is where you are designing completely new processes, or running a complete transformation of existing processes. In this case RACI helps to design new roles in the organisation. Skore includes powerful analytics to help you determine whether you have the right balance of responsibilities across the team.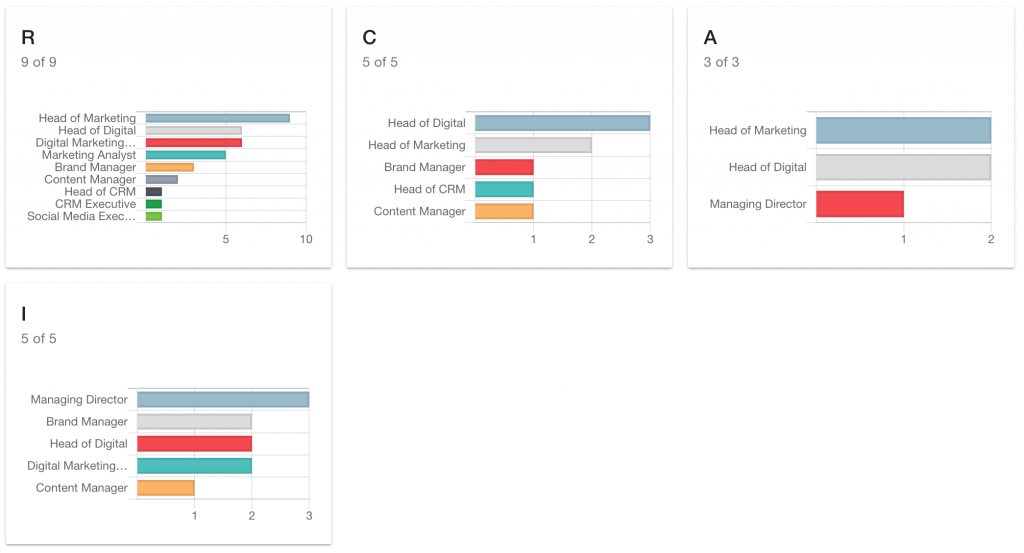 It can even help you model scenarios to understand how many people you need to run the process, based on their responsibilities.
Sign up to a free trial of Skore
Conclusion
While RACI is a powerful tool for helping teams to clarify roles and responsibilities it comes with a number of challenges. This often results in people looking for a RACI alternative. We recommend that you first evaluate the specific challenges you face and identify what is the true issue. For example, if its because you are suffering confusion and vagueness around the acronym then look to use an alternative such as RATSI.
However, if you are struggling with an overly complex matrix or a lack of understanding then maybe you need to re-evaluate the tools you are using in the first place. Consider Skore for a solution that combines the power of process mapping with RACI and analytics.