What is the Business on a Page – describing your business activities.
A Business on a Page is a tool used extensively by users of Skore and similar business process and architecture software products. It's a way to describe the key activities of a business all on one single page.
In its simplest form it allows business owners, directors and managers to have focused conversations about the business. This could be because things are not working as expected or they need to be improved. Often problems are misunderstood or span multiple areas in a business. The Business on a Page helps managers understand where the impact is on business activities.
Mostly it forms the basis, or framework, for how all the different processes in a business fit together. It's easy to read and allows the user to drill down into the component parts when they need more information.
For growing businesses it's a fantastic tool for an owner or CEO to clarify who is responsible for what. Once they have this clarity they can start to organise business processes according to who owns them. This becomes the foundation for developing scalable processes essential to the success of any ambitious business.
The Business on a Page can be used as the starting point for many different types of project including:
Process improvement
New software implementation
Evaluate compliance to standards and regulations
Assess readiness to sell
Prepare for investment
Why use the Business on a Page in an App Advisory project?
As an app advisor you're not just there to select apps for your client. You also need to make sure they are the right apps to help your client grow their business. Often you're introducing an app to help a client solve a problem they have in their business. This could be preventing them from growing in the way they want.
The biggest challenges you face in this task is really understanding the client's problem enough to provide the right solution. To further complicate this task your client probably doesn't know how to articulate this problem themselves. They will certainly feel the symptoms of the problem and describe those clearly but the actual problem that causes these can be well hidden.
What's more, even when you do eventually uncover the root cause of the problem it can be surprisingly difficult to explain this to the client. They may well have trouble accepting something they hadn't previously considered.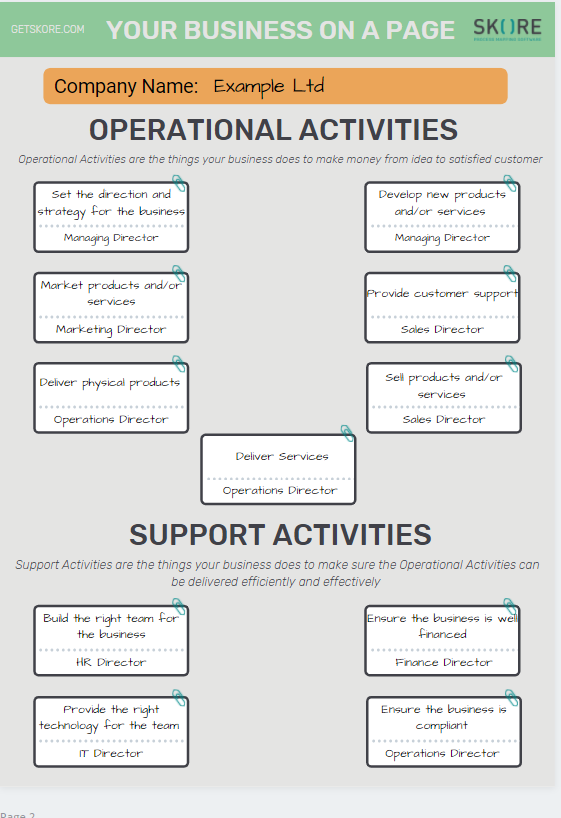 Helping you with a simple framework.
The Business on a Page helps you in several ways. It provides a simple framework which you can use with the client as the basis for discussing the problem. A clear diagram that describes business activities. You can point to it when describing how a problem in one area is causing an issue elsewhere. If the conversation is difficult, using the framework of the business on a page helps clients to discuss issues impartially and without emotion.
It also helps the client and their team organise their thoughts and group different issues based on where they happen in the business. Ultimately you'll be trying to understand where money and the data flow in the business. Then you can show how different apps are going to make their life easier. The Business on a Page allows you to agree with the client which processes need to be captured and where in the business they are.
Finally, you may be looking to help the client uncover and solve other problems in the business beyond their immediate app requirements. Again the Business on a Page gives you the necessary overview of the business to discuss and agree with the client.
Need guidance on advising clients or identifying and implementing the right apps? Read our How To guide to App Advisory here.
How does it work?
The Business on a Page approach is best used in the first meeting you have with the client. Use it to help you organise your understanding of the client's business as well as agreeing some key terminology with them. It will tell you which parts of the business you'll need to look at in more detail and who you will need to work with to do so.
Start by sketching out the key activities performed by the business. You can use our Business on a Page template to get started and provide examples of those activities. Capture all the key activities including Marketing, Sales, Delivery, Support as well as the supporting activities such as Finance, HR and IT.
Next, identify who owns each of these areas and write this down against the activities. It's best to do this with the client and members of their team so that everyone is in agreement. This will make it easier when you need to refer back to it later on.
Once you've captured these activities you can start to talk about the areas of the business you want to focus on. If you're starting with Cloud Accounting then you'll definitely be looking at the finance area. But you'll also want to know about invoicing, where does that happen, is it the finance team that looks after this, or is it done in Sales?
Are you looking at a time tracking system to help billing? Then you'll need to look at the Delivery section where projects get delivered to clients. Do expenses get captured here too? Where else does money get spent or collected? The Business on a Page will help you discuss that with the client team and agree where you need to look next for the extra detail. It will help you identify which processes you need to map and in which areas.
How to download our template
You can download our free template here to help you describe the business activities and get started today. Alternatively the interactive Business on a Page module is also available through our software platform. You can sign up for a free trial here and experience how easy it is to describe business activities online, gain instant analytics to share with clients and keep a permanent, easily updateable record of the business.