Are you continuously improving your processes?
How often has this happened? You map out and understand key processes for a systems implementation or organisational change. Identifying the opportunities, requirements and constraints you deliver the much anticipated improvements. Then, the processes get filed away and largely forgotten. How therefore, can you continuously be improving your processes if they are not engaging your organisation? 

Fast forward a year, the next change is around the corner and you know the processes are already captured. You retrieve the documentation, dust it off and discover the world has changed more than you thought. Despite all your hard work in that last year, not one person has been responsible for continuously improving your business processes and they are out of date. 

Does this sound familiar? If this has happened to you then read on. Learn how to develop a sustainable process framework that ensures the processes are not only kept up to date but more importantly deliver considerable value above and beyond the original project.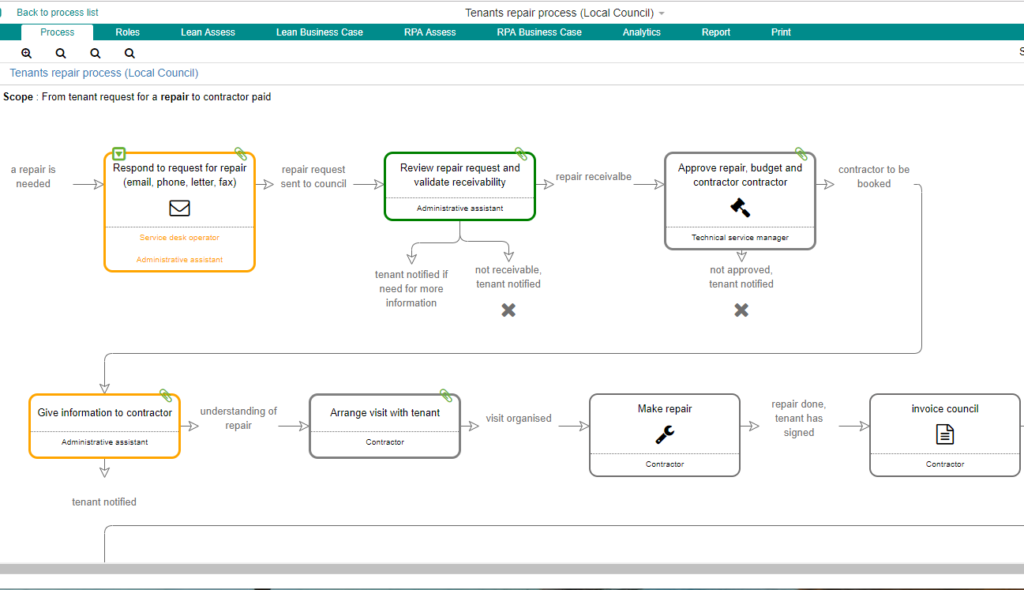 Chart a new direction

Instead of filing the process documentation away for use in some future project, think about how it can be used to deliver more value to the business today. In the short term, for example, it should provide training material and support to those involved in the change.

Explore other initiatives in the business that would benefit from having clarity on key processes. A good place to start is with compliance, standards, customer experience, continuous improvement and operational excellence. Identify the key people in these areas and share the work that has been done to see how it could support their goals and objectives.

Creating the processes is one thing but keeping them up to date will probably require new processes to ensure feedback loops are closed and content actually gets updated when required. Consider what infrastructure you need to put in place from the beginning to encourage this culture and help you improve your processes continuously.

Next, think about how this gets communicated to the business. Make clear what the benefit is for each team, the individuals in those teams and how it helps them to do their jobs better.

Empower the business

Once the processes are defined think about the people in each team who own and look after them. Identifying the process owners is essential as these are the people that will have the final say on what gets changed.

Identify champions responsible for gathering feedback and ensuring something happens with it. A system, such as Skore, helps here by gathering comments and managing changes to content. However someone has to be responsible for making happen. Therefore you need a 'go to person' in each team that everyone knows to ask.

Sense and respond to change

With the key stakeholders identified and the processes mapped start putting it into action. Well mapped processes provide a common language for teams to have focused discussions about what works well and what can be improved. For this reason we recommend that teams start to include a process review in regular team meetings. Continuously improving your processes should be a team effort not individual.

These can be once a week or even once a month but it's worth taking 10-15 minutes in each team meeting. Review one or more processes and ask those simple questions; what's causing us to slow down? What could we do better?

This may, or may not, lead to a change in the process. Either way the team knows and is reminded about how it works. Processes actually end up being tweaked more regularly as teams become more familiar with them. The processes become a reference point for experimentation and identify potential issues long before they become a reality.

Embedding simple process reviews into regular team meetings significantly increases the agility of the team and maintains high levels of communication and trust. These regular team meetings offer you the opportunity to ensure processes are improved continuously. This is better than at the last minute or because something has gone wrong. 

Continuously Improving Your Processes
There are clear benefits to reusing processes in this way. First the ability for a team to sense and respond to changes much quicker. Second, when that next transformation programme inevitably comes around, the processes will be up to date. The team will already be aligned and have a much deeper understanding of the need for change. Sustaining processes not only saves you money when you kick off a change programme. It can also increase the performance of the whole business. Your organisation must stay agile and continuous improvement of your processes is key to that success.

Skore is the process discovery, insights and improvements software platform. Skore allows you to map processes in live workshops at the speed on conversation. You gain instant insights into your organisation and engage and collaborate across teams.