Customer Experience Process (CX)
Why do we need a Customer Experience Process?
This is an example of how we use processes to define and describe a methodology, or approach, in our consulting. In this case it's our customer experience process. It describes the key activities we do when working with our customers on customer experience issues.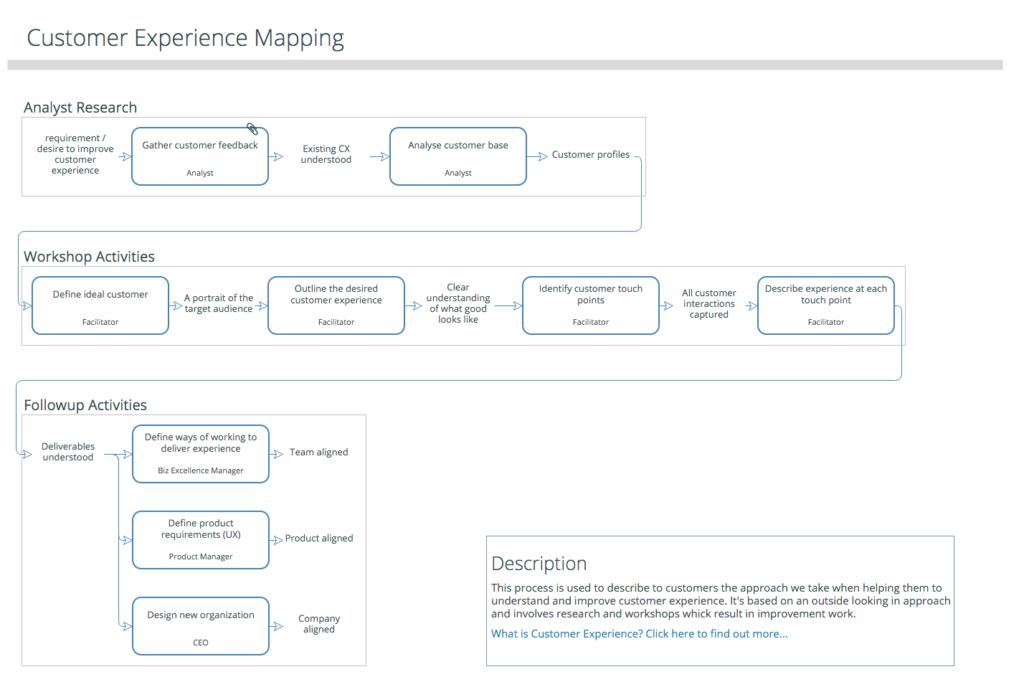 Typically a client will come to us with a request to look at, analyze and/or improve a process. It's very easy for teams to see their issues, and sometimes lack of defined process, as an internal issue. But in many cases there are significant touchpoints with the customer. Here we would recommend what we call the outside-in approach.
How do we do it?
Before we agree which processes to focus on first we help the team think about what sort of experience they want to deliver. We gather feedback from existing customers and map out the touchpoints. This shows the team where the gaps are and helps them prioritise which process to focus on. More importantly it tells them what the value adding deliverable for each process is.
We define this approach in Skore as it gives us an overview of each of the key activities. It's easy to change and update as we learn new things. And we can attach guidance notes, templates and additional information to each step. It means we can very quickly get up to speed by reviewing the process before each project. It also helps us to explain to the customer exactly how this is going to work and what they should expect. It helps them prepare better so we can really get the most out of our workshops.
How do we define that in Skore app?
As this is a high level overview we have defined it all on a single diagram. There are three key phases to the process; pre-work including interviews and research, the actual workshop(s) and finally any follow up work such as defining the actual processes. In order to show these phases we used grouping.
A group adds a border to a set of boxes on the diagram and allows you to give it a title. This way related items are shown together. You simply select the items  you want included in the group (hold down Shift and drag to select) and click on the Group option that is displayed.

We also use attachments on each box to link to templates and guidance notes for each step. Reading this process before each project is really very useful as a refresher. And it really helps the customer understand which phase of the process we are in at any given point.