Effective cross departmental communication supports growth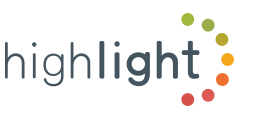 How Skore services and Skore app help technology company Highlight grow faster by improving cross departmental communication
About highlight
Highlight help businesses ensure they are getting the most out of their technology investments. The Highlight platform helps monitor apps, services and other resources and presents this in a meaningful, business friendly way.
Operating for over 15 years the business has seen increasing growth as its solutions have become more relevant in an ever more complex world. With an increasing number of systems being introduced to business they certainly are becoming more complex.
The diagnosis
With increased growth and ambitious targets came growing pains. The management team were faced with inefficiencies in cross departmental communications and processes.
"We needed to understand the current ways of working – to join up departments, provide a platform for measurement, and capture process knowledge in people's heads." – Antony Bream, Managing Director, Highlight
Antony turned to Skore for its ability to quickly understand how things work today while keeping the team engaged.
The treatment
Skore ran a series of live process mapping workshops to capture current ways of working. The Skore difference is the ability map process at the speed of talking. This allows teams to focus on the work they do and how it can be improved… such as how handovers from one team to the next are performed, how projects are planned and executed, and cross departmental communication.
Processes are published in Skore web app and shared with the team allowing them to comment and make improvement suggestions. This means they can execute the process, test the new designs and then feedback the results to the rest of the team.
The results
The clarity provided by the Skore approach has empowered the Highlight team to quickly identify bottlenecks and improve them. The improvements can be quickly communicated and embedded into working practices increasing efficiency. It's been a win-win for both Highlight and its partners.