THOSE WORKING IN THE RPA SPACE ARE USED TO SPOTTING GOOD OPPORTUNITIES FOR APPLYING ROBOTS. HOWEVER IT COMES THROUGH EXPERIENCE AND IT'S NOT AS EASY AS IT LOOKS. WHERE DO YOU START WITH RPA?
Skore's Process Mapping and Analysis Platform enables you to identify potential opportunities for RPA. However, often organisations are reluctant, the response being "we've tried that before but it didn't really deliver the return we'd hoped for."
If we look at statements like this more closely it's actually because the processes in question are complicated. They are selected for a number of reasons; multiple systems, numerous copy and paste activities, repetition and high levels of human interaction. Most importantly these are considered low risk in case anything went wrong.
However whilst low risk they are clearly of low importance too. Only a vague scope is agreed before the team go to work building a robot.
Teams may initially be pleased that the amount of copy and paste they previously did is greatly reduced and the volume of items they can handle has increased. However, the number of exceptions start to increase too, at a higher rate than the volume increase. In addition, there is an increase in rework… items that didn't make it successfully to the end of the process and need to be redone, often manually.
In other words organisations fix one problem but create new ones. On balance there is only a small return on investment and the whole RPA initiative runs out of steam before it's begun.
So, how do you avoid these common mistakes? Where do you start with RPA? Understanding which processes are right for automation is essential for success. Every organisation will have a different view of what's important. Time and cost savings are obvious benefits but you must consider the impact on customer and employee experience. 
Therefore the first thing you should do is start to capture and analyse your end-to-end business processes. You need to get people aligned and identify everything that needs to be improved before applying automation. This drives out the requirements and other improvement opportunities.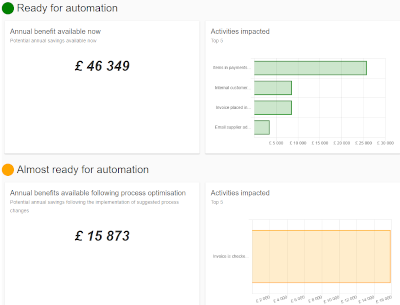 Remember capturing business processes doesn't have to be time consuming, using process mapping it can be achieved rapidly, with high levels of engagement and immediately outputs a report of what to automate and when. Skore's Robotic Assess module sits on top of the Digital Discovery platform and will also produce a robust business case for each process. This helps you prioritise them into a pipeline of work.
If you want to get the most out of RPA you need to pick processes that are easy to automate and return high value benefits in the shortest time. At least until you've established your RPA capability and are able to scale it. Using process discovery will help you identify those processes rapidly and prioritise them efficiently.
Craig Willis is one of the founders of Skore, the Process Mapping and Analysis platform that enables you to align your processes, people and tools with ease. Skore have launched Robotic Assess, a module that allows you to easily assess and understand where to start with RPA. Find out more.
Missed our recent RPA webinar? If you still need to learn about process discovery, sustainable RPA implementation, how to scale and building a robust RPA business case click here to request a free copy.